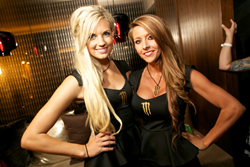 Chicago, IL (PRWEB) August 02, 2014
Java Monster partnered with Project Ethos to sponsor their debut event in Chicago at the I | O Urban Roofscape, named for its indoor and outdoor space in the newly opened Godfrey Hotel located at 127 W. Huron Street at LaSalle on July 29. The one-night event welcomed over 800 guests who celebrated rising talents in local fashion, music and art all with Chicago's best panoramic skyline views, and a Java lounge for guests to recharge and hang out at this exclusive event.
One lucky winner was treated to "The Ultimate Fashion-Music-Art Experience," compliments of Java Monster where they received two VIP tickets with seating for the fashion show and concert, a limo to and from the event and a $100 Visa gift card. Guests also enjoyed their favorite Java Monster drink. Featured drinks included: Mean Bean, Loca Moca, and Vanilla Light.
The evening kicked off with a fashion show featuring a variety of Chicago based women's wear designers including Anastasia Chatzka, Crystal B. Designs, Bray-Zen, and Project Runway Alum Kahindo Mateene with tunes by DJ Louie Loop. Headliners traveling from Los Angeles SACHIKA presented by Avita Premium Artesian Water showcased a collection of coral and white cocktail dresses with models carrying XDream portable speakers as tech themed accessories.
Other highlights included an art gallery, set in the beautiful I-Lounge featuring Floyd A. Davis IV (Artpentry), who presented an art installation of train cases and steamer trunks with built-in subwoofers called the "Gentleman's Boombox," and select works from Steven Holliday, Zachary Schrey, and Kyle La Mere Photography who premiered a new series of work entitled, "Diaphanous," which was inspired by the strength of the feminine spirit.
The 21+ event was free and open to the public and concluded with an after party at 10 pm featuring DJ Madrid and Chadwick as The Vibe Providers who kept guests partying until 2am with music and live painting.
Complete information on Project Ethos, the designers, program schedule and sponsors can be found at the official website at Projectethos.tv.
About Java Monster
Based in Corona, California, Java Monster is coffee done the Monster way. Java Monster's premium coffee and cream offers the perfect mix of ingredients. Brewed with killer flavor and supercharged with the Monster Energy blend, Java Monster gives you half the caffeine of regular coffee and twice the buzz. Java Monster Personalities include Mean Bean, Loca Moca, Kona Blend, Vanilla Light, Irish Blend and Toffee; all created to satisfy whatever mood suits your lifestyle. See more about Monster Beverage Corporation including all of its drinks at http://www.monsterenergy.com.
About Project Ethos
Since 2005, Project Ethos has consisted of a fashion show, music performance, and art gallery in one venue on one night. With over 1,500 fashion designers, musicians and artists featured, Project Ethos has held large‑scale productions in Los Angeles, San Diego, San Francisco, Portland, Las Vegas and Scottsdale, with Chicago, New York and Miami launching in 2014. Past designers have been featured on Project Runway, sold in retail stores and featured in prominent publications. Previous music acts have won Grammys and played the Super Bowl. Hundreds of original pieces have been sold.