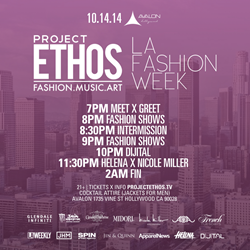 Los Angeles, California (PRWEB) October 07, 2014
Java Monster is proud to partner with Project Ethos and sponsor their LA Fashion Week event at Avalon Hollywood (1735 Vine Street, Los Angeles, CA 90028) on Tuesday, October 14th from 7 pm to 2 am. Hosted by TV Guide's Nail Files personality, Katie Cazorla, the evening will consist of a fashion show, DJ acts, an art exhibition, and a Java lounge for guests to recharge and hang out at this exclusive event.
Guests can enjoy their favorite Java Monster drink. Featured drinks include: Mean Bean, Loca Moca, and Vanilla Light.
The Project Ethos team, collaborators, designers, artists and musicians will support Stand Up To Cancer by promoting an online donation page (live now and accepting donations) to all of their followings, family and friends. One can simply donate on the page or join the team and create their own donation page to promote.
Project Ethos one night fashion, music and art event will feature an exciting roster of designers and talent hosted at Avalon Hollywood. Headlining the nights' festivities is a special presentation by American designer Nicole Miller. Launched over 30 years ago, the iconic brand has impacted every part of the fashion world from women's to menswear and bridal. The 11:30 pm fashion show will take place alongside a DJ set from Helena.
Emerging designer fashion shows take place at 8 pm and 9 pm. Featured designers include Chynni, creator of Indian fashion with American flair, fiercely feminine designs by MS Scandal, San Diego based Isabel Vianey, Amour Swimwear of Los Angeles, The Ashley Michaelsen Collection inspired by classic romance tales, Liberty Garden whose line supports Doctors without Borders, as well as contemporary brand, Oober Swank. In conjunction with the Fashion Merchandising and Design program at California State University Long Beach, Project Ethos will launch the first annual Fashion Designer Scholarship for graduating seniors. Winner Jennifer Luong will premiere her boho-chic collection, Tandy Stone on the LA Fashion Week runway.
Bardot will host a live art gallery presented by Midori with a $1,000 cash prize awarded to one of 10 live artists battling for the fan favorite. Vendors at the event include skin care brand, Gilded Cells, a nail decal station by The Painted Nail as well as Speck featuring Candywirez. Tickets are available for this 21+ event via Eventbrite. The dress code is strictly cocktail attire (jackets for men).
Java Monster will post content throughout the event. For on-site Java Monster media inquiries and images please contact Kim Dresser at (949) 300-5546 or kim.dresser(at)indiepragency(dot)com. Complete information on the designers, program schedule and sponsors can be found at the official website at Project Ethos.
###
About Java Monster
Based in Corona, California, Java Monster is coffee done the Monster way. Java Monster's premium coffee and cream offers the perfect mix of ingredients. Brewed with killer flavor and supercharged with the Monster Energy blend, Java Monster gives you half the caffeine of regular coffee and twice the buzz. Java Monster line-up includes Mean Bean, Loca Moca, Kona Blend, Vanilla Light, Irish Blend and Cappuccino; all created to satisfy whatever mood suits your lifestyle. See more about Monster Energy Company including all of its drinks at http://www.monsterenergy.com.
About Project Ethos
Since 2005, Project Ethos has consisted of a fashion show, music performance, and art gallery in one venue on one night. With over 1,500 fashion designers, musicians and artists featured, Project Ethos has held large-scale productions in Los Angeles, San Diego, San Francisco, Portland, Las Vegas Scottsdale, and Chicago, with New York and Miami launching in the Fall of 2014. Past designers have been featured on Project Runway, sold in retail stores and featured in prominent publications. Previous music acts have won Grammys and played the Super Bowl. Hundreds of original art pieces have been sold.