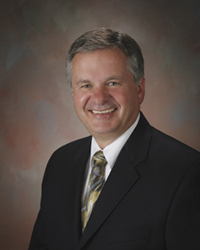 Javon Bea Mercy Health System President and CEO
Janesville, WI (PRWEB) November 28, 2014
Javon Bea Mercy Health System President and CEO - Maintaining good health is a journey and typically involves many factors. One factor is ensuring participants have the fitness level to support their daily activities. Inactivity promotes fatigue, weight gain, loss of physical independence, depression, and many other ailments that significantly impact a person's quality of life.
The certified clinical exercise specialists at the Mercy Cardiac Fitness Center offer a safe and effective way to prevent disease and lose weight with its Journey to Health program for adults. The program is also for people who may have cancer, diabetes, high blood pressure, high cholesterol, metabolic syndrome and arthritis.
Each phase includes aerobic, strength, balance and flexibility exercises, and builds upon the last phase as participants gradually become accustomed to moving in new and healthy ways. Through November, new participants save over $40 on enrollment. Participants can start anytime. The program requires a doctor's referral. For more information, call the Mercy Cardiac Fitness Center at (608) 755-7996.