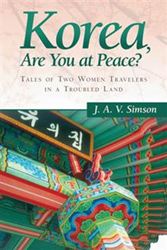 CHARLESTON, S.C. (PRWEB) January 09, 2015
Author J.A.V. Simson wrote her new book, "Korea, Are You at Peace? Tales of Two Women Travelers in a Troubled Land" (published by Abbott Press) to bridge the knowledge gap for Americans who only think of war, dictatorship or nuclear weapons when they think about Korea.
Simson spent two years in South Korea teaching biology on U.S. military bases. She took time to travel around the country and discovered a grim history of past oppression, political strife and military struggles.
"My time in Korea offered me a better understanding of this very misunderstood region of the world," Simson says. "I also came to realize the effects of the devastating war between North and South Korea and of the Japanese occupation that preceded it."
Simson discovered a book by the Victorian traveler Isabella Bishop, who traveled in Korea in the 1890s. By interweaving her own story with Bishop's experiences, Simson shows the transformation of culture, politics and power in Korea during the 20th century. Both authors also explore the troubled status of Korean women while themselves facing challenges as foreign women traveling alone.
"Korea, Are You at Peace?" offers a factual backdrop that puts the current Korean cultural dichotomies into perspective. Simson stresses the consequences of the Korean War – the lack of an actual peace treaty between North and South Korea; problems in the demilitarized zone; threats of nuclear attack from the North; the unsettling effects of American military culture on local people; and the unstable political landscape – as contributing factors in the development of such a tragic dichotomy.
Simson questions if Korea could become a flash point for the onset of World War III and "Korea, Are You at Peace?" explains why that fear could become a reality.
"Korea, Are You at Peace?"
By J.A.V. Simson
Hardcover | 6 x 9 in | 198 pages | ISBN 9781458210371
Softcover | 6 x 9 in | 198 pages | ISBN 9781458210388
E-Book | ISBN 9781458210364
Available at Amazon and Barnes & Noble
About the Author
J.A.V. Simson has a Ph.D. in anatomy and cell biology. She was featured in the Smithsonian's American History Museum exhibit "Science in American Life" from 1994 to 2011, has numerous academic publications and is professor emeritus of the Medical University of South Carolina. She is currently sole proprietor at Writing Life and has published several short stories as well as a previous nonfiction book.
Abbott Press, a division of Writer's Digest – the oldest and most respected publisher devoted to the education and advancement of writers – is an indie-publishing imprint dedicated to helping writers bring their literary vision to print. Author Solutions, LLC, a leader in indie book publishing, will fulfill publishing, sales, and marketing services for Abbott Press. For more information, or to begin publishing a book today, log on to abbottpress.com or call 866-697-5310.