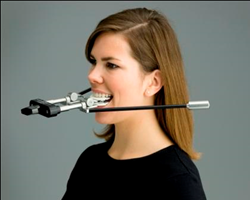 'This is a significant study done solely by interested individuals who seem to have merely wanted to prove the clinical efficacy of the Dynasplint Jaw unit (Dynasplint Trismus System). The results were favorable to us,' said George Hepburn.
Severna Park, MD (PRWEB) March 22, 2016
New research shows efficacy of Jaw Dynasplint® System (formerly known as the Dynasplint Trismus System) in helping patients regain range of motion following treatment of head and neck cancer.
The University of Groningen conducted a prospective study with the following aims: (1) to determine the effects of DTS exercises on changes in mouth opening, pain, mandibular function, quality of life (QoL), and symptomatology and (2) to analyze the patients' perception on exercises, including user satisfaction, experiences, comfort, and compliance.
Trismus is a restricted mouth opening of 35 mm or less and has a negative impact on quality of life including: chewing, eating, speech, oral hygiene, dental treatment, nutrition, airway clearance and oncological follow up. Exercise therapy and physical therapy modalities can be used to increase the limited mouth opening, one being, the Jaw Dynasplint System.
The Jaw Dynasplint System provides low-load, prolonged-duration stretching with the aim of lengthening the affected tissue permanently.
The exercise program consisted of three training sessions per day, with a gradual increase in time and stretching forces as tolerated. All of the patients were asked to record their daily experiences.
Mouth opening increased after treatment with the Jaw Dynasplint System and the increase was significant. All of the interviewed patients noticed the effects, had positive feelings about the results and would recommend this type of exercise therapy to other patients.
Dynasplint Systems, Inc. manufactures, rents, and sells nearly 90 different dynamic splints that help patients regain joint range of motion. The Company, founded in 1981 by George R. Hepburn, PT, employs sales consultants across the United States and is headquartered in Severna Park, Maryland, just outside of Baltimore.
For more information, please contact us at:
Corporate Headquarters
770 Ritchie Highway | Suite W21 | Severna Park, MD 21146
TEL: 800-638-6771
LOCAL: 410-544-9530
FAX: 800-380-3784