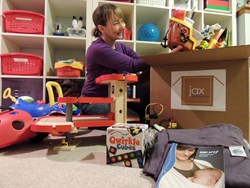 "We strive to provide an easy way to buy and sell children's toys and gear online," said Jax in the Box owner, Jessica Lahner. "Making things as simple as possible is our goal."
Burlington, WI (PRWEB) August 13, 2013
Online children's resale store jaxinthebox.com is changing the way people buy and sell online. With the goal of providing a hassle-free alternative to rummage sales, eBay or Craigslist, the company's "Playroom Purge Kit" makes it easier than ever to make money on children's gently used toys and gear. Jax in the Box is currently offering deep discounts on the Playroom Purge Kit convenience fee – enabling customers who choose the Basic kit to use this service at no charge.
Jax in the Box customers are taking advantage of two super-easy Playroom Purge options. Using the Basic Playroom Purge Kit, parents simply use the online instructions and fill up a box they have lying around the house with gently used toys and gear. They then send it to Jax in the Box using a postage-paid mailing label emailed directly to them by the company.
Customers who choose a Premium Playroom Purge Kit are mailed their choice of a small, medium or large-sized box along with step-by-step instructions and a postage-paid mailing label. Customers simply fill the box to the brim and send it back to Jax in the Box.
When Jax in the Box receives customers' Playroom Purge boxes, they buy items that meet their quality requirements. While the price paid depends on the item's brand, popularity and condition, Jax in the Box generally pays 20-40 percent of what they will list the item for in their online store, where they offer discount toys and gear in gently used condition. The items the company does not buy are sent back or donated to charity. Customers choose to receive cash or store credit for the items the company buys.
"We strive to provide an easy way to buy and sell gear online," said Jax in the Box owner, Jessica Lahner. "Making things as simple as possible is our goal."
Jax in the Box hopes to appeal to busy parents who may not have the time to hold rummage sales or take pictures, write descriptions and list items online. The Playroom Purge process cuts out the hassle of sorting through the text messages, emails, and phone calls from potential buyers, while eliminating frustrating "no-shows" that frequently occur when buying and selling online.
According to Ms. Lahner, the company has discounted their Playroom Purge convenience fees by up to 50 percent. With this discount, customers who choose the Basic Playroom Purge kit end of paying nothing for the service after being returned a $5 deposit when their box is received by Jax in the Box.
The company charges for the Playroom Purge Kits because the cost of shipping large boxes is expensive. Even so, Jax in the Box picks up the majority of the shipping tab and provides at least half of the kit's cost back to the customer as a store credit. The goal is to make it simple and affordable to send in items.
"Another incentive that we just started is the inclusion of a Premium Playroom Purge Kit in large orders," Ms. Lahner said. "Those who buy enough gear to fit into a 14x14x14 box or larger, are automatically shipped a Premium Playroom Purge Kit at no cost."
The postage paid shipping label included in the kits never expires. So parents can take their time filling up the box and send it back when they are ready. Returned kits are charged a low $5 convenience fee that is simply deducted from the money earned on their items.
Customers interested in using a Playroom Purge Kit can go to jaxinthebox.com and check out the detailed information under the tab "Sell My Gear". The website offers graphics on what can fit in differently sized boxes, offers shipping suggestions, and provides details on what the company buys and what customers can expect to earn for their outgrown toys and gear.
While selling items is fun, buying new and like-new items for youngsters is even better. Jaxinthebox.com is an online children's resale shop offering parents of young children all gear they need and most of what they want by providing gently used items for up to 80% of retail. Their goal is for parents to never have to pay full price for quality kid gear.