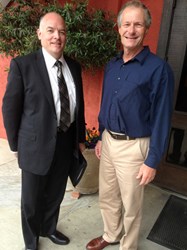 Jay Varney is experienced in all matters of law enforcement and has held a number of leadership positions that I feel make him highly qualified for the position of Madera County Sheriff. - Madera Mayor Robert Poythress
Madera, CA (PRWEB) January 01, 2014
The Mayor of Madera, Robert Poythress, has announced that he has endorsed Jay Varney for Madera County Sheriff. Varney is running for the position of Sheriff against four other candidates, each of which are vying to fill the position vacated by the 2014 retirement of current Sheriff John Anderson.
Jay Varney recently received a very important endorsement in his bid for the position of Madera County Sheriff when it was announced that Robert Poythress, the Mayor of Madera, would be supporting Varney in the upcoming election.
Poythress is now serving a four year term as Mayor of Madera, and is a well respected public servant and native Maderan. The fact that he is supporting Varney in the race significantly strengthens Varney's position.
"Jay Varney is experienced in all matters of law enforcement and has held a number of leadership positions that I feel make him highly qualified for the position of Madera County Sheriff," said Poythress in a statement announcing his endorsement of Varney. "His dedication to public service, his spirit of cooperation and his core values make him, in my estimation, the ideal candidate for this position".
Varney was very appreciative in receiving the endorsement of the Mayor, stating, "I am humbled by Mayor Poythress' endorsement. It means a great deal to know I have the support of someone who has led Madera the way that Mayor Poythress has. When elected to the office of Sheriff, I intend to serve Madera County with the same honor and dedication that Robert Poythress has served the City of Madera through the position of Mayor."
Varney is a 30-year veteran of law enforcement, and has served in a number of capacities during that span. He began his career in Dallas, Texas, but then returned to his hometown of Lansing, Michigan to join the police department there. Finally, he earned the position of Chief of Police of Chowchilla, where he has served for the past ten years.
In addition to his law enforcement background, Varney holds an undergraduate degree from Michigan State University, and is completing a graduate degree in criminology from Fresno State University. He is a graduate of the FBI National Academy, where he earned a graduate certificate from a worldwide program that is by invitation-only.
For more information, quotes, appearances and interviews from Jay Varney and Varney For Sheriff/Coroner please contact Director of Media Brandon Hopkins at 559-871-1613, brandonchopkins(at)gmail(dot)com or http://www.SunsetReputation.com.
Authorized by Varney For Sheriff/Coroner 2014 FPPC#:1361251