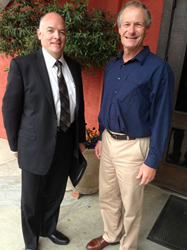 Madera, CA (PRWEB) October 05, 2014
Jay Varney's overwhelming support for Madera County Sheriff continues to swell, as both the Mayor of Madera, Robert Poythress, and the Mayor of Chowchilla, Richard Walker, have endorsed Varney as he seeks election. Varney's campaign, which was bolstered by a victory in the June primary, has seen a number of community leaders and organizations show their support by endorsing the candidate for Sheriff, many of them citing his exceptional leadership record and experience in the field of law enforcement.
"I am both excited and humbled that these important community leaders, who have done so much for the people of Madera County, have decided to support me," said Varney. "If elected, I hope that I am able to positively contribute to the community in the same way Mayor Poythress and Mayor Walker have, and I sincerely believe that we can make Madera County the safest county in all of California."
Varney has succeeded in garnering a great deal of support due in part to his over 30 years of experience in law enforcement, which has seen him occupy the positions of sergeant, lieutenant and police chief in several different police departments. Of his over 30 years in law enforcement, Varney has spent 19 of those years in leadership roles. Since 2004, Varney has served as the Police Chief of the City of Chowchilla.
In addition to a long and varied career in law enforcement, Varney has also demonstrated that he clearly values continuing education opportunities, as he holds a Bachelor's degree from Michigan State University and a Master's degree in Criminology from Fresno State University. Varney was also invited to attend the highly prestigious FBI National Academy in Quantico, Virginia, earning a graduate certificate in Criminal Justice Education issued by the University of Virginia.
The mayors of Madera are not the only ones to support Varney, as several organizations have also officially backed the current Police Chief of the City of Chowchilla as he seeks election as Madera County Sheriff. These organizations include the Madera Deputy Sheriffs Association, the California Police Chiefs Association and the Madera Police Officers Association, in addition to many others.