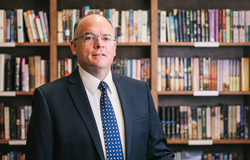 Madera, CA (PRWEB) October 03, 2014
Jay Varney has received the endorsement of the California Peace Officers Association, further strengthening the Police Chief of the City of Chowchilla's bid to win the election for Madera County Sheriff. Varney, 53, has received a great deal of support in seeking election, including endorsements from numerous law enforcement organizations and local government leaders. The endorsements frequently reference Varney's exceptional experience in law enforcement and his clear leadership qualities.
"It means a great deal to me and to my campaign for Madera County Sheriff to have the support of the California Peace Officers Association," said Varney. "I have been humbled and overwhelmed by all of the support that I have received thus far from so many outstanding people and organizations."
The California Peace Officers Association is an organization that provides professional development and training opportunities to members of the California law enforcement community. The organization also serves as an advocacy group, keeping individuals in law enforcement positions aware of the legislative issues that may affect them in the future.
Varney has been involved in law enforcement in numerous capacities for over 30 years. Before accepting the position as Police Chief of the City of Chowchilla in 2004, Varney served in police departments in Dallas, Texas and Lansing, Michigan. There have also been two different stints in which Varney has been asked to serve in the dual role of acting City Administrator in addition to his role as Police Chief of the City of Chowchilla.
Varney's qualifications go beyond just his experience in leadership roles within law enforcement, as his educational background is also quite vast. Varney holds a Bachelor's degree from Michigan State University and a Master's degree in Criminology from Fresno State University. The candidate for Madera County Sheriff was also invited to the prestigious FBI National Academy in Quantico, Virginia, coming away with a graduate certificate in Criminal Justice Education that was issued by the University of Virginia.