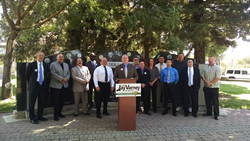 (PRWEB) September 18, 2014
"Our campaign is supported by many current and retired law enforcement executives and employees. We are strongly endorsed by 5 of the 6 law enforcement associations in Madera County, while our opponent is endorsed by none", stated Jay Varney, top vote getter in the June primary election.
"These endorsements represent the votes of the law enforcement professionals and government employees who are your friends and neighbors, and also are the first responders who provide your law enforcement services in Madera County," stated the current Acting City Administrator and Chief of Police for the City of Chowchilla.
Candidate interviews conducted by these associations resulted in the subsequent endorsements. The associations then made their endorsement selections based on the leadership demonstrated and the quality of answers given by the candidates. Varney is endorsed by the Madera Deputy Sheriffs Association; the Madera Police Officers Association; the Chowchilla Police Officers Association; the Madera Probation Peace Officers Association; the Central California Correctional Peace Officers Association; and by the local chapter of the American Federation of State, County, and Municipal Employees (AFSCME).
In addition to these local endorsements, Varney has also received the endorsement of the following statewide law enforcement associations that represent hundreds of police chiefs and sheriffs, as well as thousands of first line officers, supervisors and managers. These endorsements include the CA Police Chiefs Association, Police Officers Research Association of CA, and the CA Peace Officers Association.
Mayor Richard Walker, Mayor of Chowchilla, Mayor Rob Poythress, Mayor of Madera, Derek Robinson, Vice Mayor of the City of Madera and retired law enforcement professional and retired 3 time chairman of the Madera County Board of Supervisors, Ronn Dominici were all in attendance to demonstrate their support.
Mayor Pothress commended Chief Varney for his integrity and diligence both as police chief and again as Acting City Administrator. Retired Supervisor Dominici spoke highly of his past work with Chief Varney on endeavors such as the City/City/County committee and other cooperative work involving county business.
"The depth of support demonstrated today shows that both the employees who provide your service, as well as the elected officials who are responsible for leading our cities and county recognize and respect my leadership ability and ability to get things done", Varney stated.
When asked about transitioning Chief Varney stated, "Having been appointed twice as Acting City Administrator, I am well acquainted with rapidly adapting to and overcoming changing work demands and systems. Being elected your Sheriff will not have the "steep learning curve" alleged by others. I am already familiar with many of the county processes and will easily transition to operating there."
Media Contact:
Brandon Hopkins
Overnight Marketing
673 Harbor Dr.
Madera, CA 93637
559-871-1613
http://www.OvernightReputation.com