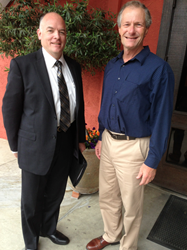 Madera, CA (PRWEB) September 30, 2014
Jay Varney's bid for election as the Madera County Sheriff/Coroner was recently strengthened by the support of Madera Mayor Robert Poythress. Varney, currently serving as the Chief of Police in the City of Chowchilla, has already garnered a great deal of support throughout his campaign, one of the many factors that likely led to earning a victory in the June primary election.
"It is an honor to be endorsed by Mayor Poythress, and I am grateful that Madera already has outstanding leadership in place whose example, if elected, I can follow," said Varney. "The support that I have received from the community and its leaders has been nothing short of humbling and I am very hopeful that I will have the opportunity to serve this community and help make it the safest county in all of California."
Along with Mayor Poythress, Varney has the support of a number of agencies and government leaders, including the California Peace Officers Association, the California Police Chiefs Association and the Madera Deputy Sheriffs Association. In addition to the endorsements of these and many other organizations, Varney has also earned the support of city council members, school superintendents and police chiefs.
The support of Varney's campaign stems from his vast law enforcement experience, as he has held a number of leadership positions over his more than 30 years of experience. Before accepting the position as Chief of Police in the City of Chowchilla in 2004, Varney was a part of both the Lansing, Michigan and Dallas, Texas police departments, where he served in varying capacities as a sergeant and lieutenant.
While Varney's experience is certainly a driving force behind his many endorsements, the candidate also boasts an impressive educational background as well. Varney holds a Bachelor's degree from Michigan State University and a Master's degree in Criminology from Fresno State University. Varney's educational background does not end there, as the Sheriff's candidate has also earned a graduate certificate in Criminal Justice Education from the University of Virginia and has graduated from the highly prestigious FBI National Academy in Quantico, Virginia, a program that is strictly invitation-only.