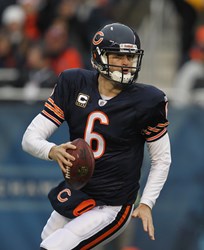 (PRWEB) November 08, 2013
Just two short weeks ago, Chicago Bears quarterback Jay Cutler went down when playing against the Washington Redskins. He had suffered a groin injury, and was expected to be out for at least four weeks. It has been recently reported that the timeline for his return could considerably speed up.
Cutler will start and attempt to play again the Detroit Lions in the Bears week 10 game. The Bears have done well without him, as they survived again the Green Bay Packers this past Monday night. The Packers, however, were also without their star quarterback as he was hurt badly on the opening drive.
If Cutler is to actually start and play next week, it will only be one and a half games that he will have missed. Cutler and the Bears were very lucky that the game after he was injured happened to be a bye week for the team. Even with that week of rest for the quarterback, a return against the Lions this quickly would be truly amazing and great news for Chicago fans.
The Chicago Bears are having a great 2013 season. They currently are 5-2 and stand at 2nd place in the NFC North. The Lions are just ahead of them, and a win could ensure first place. The Bears had faced the Lions in week 4 of the NFL season, but lost in a 40-32 heartbreaker. This will be the Bears chance for revenge.
The Bears still have quite the season ahead of them, and Cutler returning would be very helpful. The team still has yet to play last year's Super Bowl Champions the Baltimore Ravens, the Minnesota Vikings who are also in the NFC North, as well as another game against division rivals the Green Bay Packers. Bears tickets to these games and more can be purchased at http://www.Ticketmonster.com for the best value of NFL tickets on the web. Ticket Monster never charges any extra fees, and customers that visit the site can use the active blog and social media hub to interact and engage with other Bears fans!