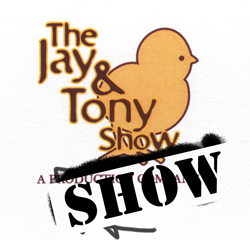 In a climate where one misstep can end a career, THE JAY & TONY SHOW SHOW is spilling the beans and naming names.
Los Angeles, CA (PRWEB) March 04, 2015
Turning an already chaotic and uncertain industry on its head, The Jay & Tony Show, a successful television production company, has started a podcast that exposes the secrets, subtleties, and little known facts about Reality Television.
In a climate where one misstep can end a career, The Jay & Tony Show is spilling the beans and naming names.
"The only way to do this is to try to be as honest as humanly possible. There are so many people in this business who are unnecessarily full of crap and toxic, we wanted to be an antidote to all of that," says Jay Blumenfield, one half of the producing duo.
The two TV veterans have created and produced shows with daredevil Nik Wallenda, comedian Chelsea Handler, recording artist Missy Eliot and countless others. They have launched successful television franchises like Restaurant Stakeout, The Wiener Circle and Gigolos. Now they are bringing their wealth of insider knowledge, sharp senses of humor, and knack for finding the authentic to the digital masses with a podcast all about "how the television sausage is made."
"People are always asking for inside stories on television. What started out as a way for us to blow off steam and entertain ourselves has become a way to answer those questions and make people laugh by saying things we probably shouldn't," says Tony Marsh, the bearded and bespectacled half of the twosome.
The podcast has garnered followers all over the world, as well as people high on floors of television power.
"It's a little scary," says Blumenfield, "We have received quite a few calls from heads of networks who lead with, 'So, I have been listening to your podcast...' and my heart skips a beat waiting to hear the anger, but instead the next line is usually something like, 'I love it, please keep it up.'"
While the production company continues to grow and find success on a wide range of networks, Jay and Tony plan to keep their podcasting going for as long as they have something to say. Thus far, topics have ranged from how to get on television to why shows die to don't sleep with the cast to inside the mind of a network executive. Each deep dive into the business of television also comes with its share of heated banter, revealing true stories and laugh out loud absurdity.
The podcast comes out once a week on Thursdays. The Jay & Tony Show.
Subscribe on iTunes: https://itunes.apple.com/us/podcast/the-jay-and-tony-show-show/id920936734
Jay and Tony Social Media Links:
Website: http://www.jayandtonyshow.com/
Facebook: https://www.facebook.com/jayandtonyshow
Twitter: https://twitter.com/jayandtony