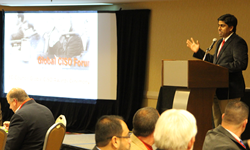 We want EC-Council Foundation to be the bridge between veterans and jobs that so sorely need the kind of experienced, talented, driven leaders that veterans so clearly are
Albuquerque, NM (PRWEB) November 05, 2014
Jay Bavisi, President of EC-Council and EC-Council Foundation, was named as the Keynote Speaker for the National Initiative for Cyber Security Education (NICE) Conference in Columbia, Maryland. NICE is a White House program created in response to President Obama's "Ready to Work Initiative" to enhance the recruitment, training, and retention of cyber security professionals, to raise public awareness, and to enhance cyber security education in US schools to expand cyber education nationally in the US.
EC-Council Foundation is a non-profit organization founded by EC-Council to raise awareness of cyber safety issues for the global community while unifying global cyber defense. According to Bavisi, "There is no group of people better able to take on the defense of the nation's cyber infrastructure than this country's veteran population." EC-Council has previously supported veterans by working directly with the Wounded Warrior Project and donating courseware and other educational resources to the cause.
EC-Council Foundation sees alignment between the NICE initiative and their mission, but also sees opportunities for the nation's veteran population to be retrained to meet the demands of the cybersecurity industry. As of spring of 2014, the unemployment rate for Gulf War II/Operation Iraqi Freedom veterans was 6.8 percent for the 12 months beginning April 2013 while the nonveteran population's unemployment rate was 5.7 percent.
As for job demand, the information security industry is seeing nothing but growth and a marked shortage of employable experts. According to the Bureau of Labor Statistics, "Employment of information security analysts is projected to grow 37 percent from 2012 to 2022, much faster than the average for all occupations."
"We want EC-Council Foundation to be the bridge between veterans and jobs that so sorely need the kind of experienced, talented, driven leaders that veterans so clearly are." Bavisi will highlight his proposed solutions for the high unemployment veterans face and how the mission of cybersecurity is a perfect fit for returning soldiers.
About EC-Council
The International Council of E-Commerce Consultants (EC-Council) is a member-based organization that certifies individuals in various e-business and security skills. EC Council is the owner and developer of the world-famous E-Council Certified Ethical Hacker (CEH), Computer Hacking Forensics Investigator (C|HFI), Certified Security Analyst (ECSA), License Penetration Tester (LPT) programs, and various others offered in over 60 countries around the globe. These certifications are recognized worldwide and have received endorsements from various government agencies including the US Federal Government via the Montgomery GI Bill, and the US Government National Security Agency (NSA) and the Committee on National Security Systems (CNSS) certifying EC-Council's Certified Ethical Hacking (CEH), Network Security Administrator (ENSA), Computer Hacking Forensics Investigator (CHFI), Disaster Recovery Professional (EDRP), Certified Security Analyst (E|CSA) and Licensed Penetration Tester (LPT) program for meeting the 4011, 4012, 4013A, 4014, 4015 and 4016 training standards for information security professionals and most recently EC-Council has received accreditation from the American National Standards Institute (ANSI).
For more information about EC-Council, please visit http://www.eccouncil.org.
About EC-Council Foundation
EC-Council Foundation is a charitable and educational organization dedicated to educating and training individuals in security skills. Established in 2012 by EC-Council, the foundation seeks to raise awareness, build capacity across nations and ultimately promote global peace. EC-Council Foundation's mission is to foster collaboration and participation by global digital citizens to become advocates for safe, secure online activities and to foster online child protection through education. For more information, visit foundation.eccouncil.org.