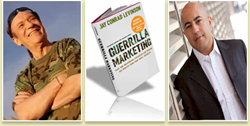 'Jay and Sohail have laid out the plan for you to succeed with Guerrilla Marketing and Joint Ventures. Read this book and gain the benefits of their experience!' - Tom Hopkins, NYTimes Best Selling Author - How to Master the Art of Selling
New York, New York (PRWEB) November 02, 2014
Jay Conrad Levinson, the late founder of Guerrilla Marketing, wrote his last book titled "Guerrilla Marketing and Joint Ventures: Million Dollar Partnering Strategies for Growing any Business in Any Economy" with partner, Sohail Khan. The new book will be released on November 11th, and will start shipping by November 17th.
This is the very last Guerrilla book from Jay who sadly passed away in October 2013 a few weeks after the book was completed. In this updated resource written by Sohail Khan alongside the award-winning author and founder of Guerrilla Marketing, Jay Conrad Levinson, one will discover the seldom-revealed, proven tools, strategies, and shortcuts leveraged by the world's leading Guerrilla Marketers to cut through the clutter, reach the masses, and profit using the power of guerrilla marketing and joint ventures.
"In the 35 years Margie and I have had our leadership training and development company, we have had many joint ventures. Some have worked well; others have been less successful. If we had read Jay and Sohail's book Guerrilla Marketing and Joint Ventures years ago, our track record would be almost perfect. Their advice can help you, too—because today you can't do everything by yourself. You need productive, strategic partnerships," says Ken Blanchard, Co-author of New York Times Bestseller, "The One Minute Manager."
Readers will also enjoy hundreds of no- and low-cost guerrilla tactics to cultivate leads, dramatically increase sales, and generate immediate and long-term cash flow using other people's assets. Sohail includes his own real-life case study of going from 'Zero To 4.2 Million' customers in just 30 days using joint venture partnering. Lastly, readers will get the specific answers and steps one must take to create and implement profitable 'Million Dollar Partnerships'
"I promise you - this book will change the way you conduct business forever," says Sohail.
Guerrilla Marketing is currently running a 7 day promotion in which customers can receive a complimentary copy of this book by registering and paying shipping and handling (US addresses $7.99 or Non-US address $12.99)
Tom Hopkins, New York Times Bestselling Author of "How to Master the Art of Selling" says, "Smart marketers have figured out that collaboration provides unbelievable potential for revenue generation. Jay and Sohail have laid out the plan for you to succeed with Guerrilla Marketing and Joint Ventures. Read this book and gain the benefits of their experience!"
Along with a complimentary copy of "Guerrilla Marketing and Joint Ventures: Million Dollar Partnering Strategies for Growing any Business in Any Economy," registrants will get instant access to the Joint Venture Training Videos, which can be enjoyed while one waits for their book.
Sohail Khan is also running a one-time bonus package in which registrants need only pay $10 extra and they will receive a copy of Sohail's Advanced Million Dollar Partnering Prospect Questionnaire and Checklist (via an instant PDF download) only for his private clients (estimated retail of $500).
About Jay Conrad Levinson & Sohail Khan
Jay Conrad Levinson was the author of the best-selling marketing series in history, "Guerrilla Marketing," plus 57 other business books. His books have sold 20 million copies worldwide. And his guerrilla concepts have influenced marketing so much that his books appear in 60 languages and are required reading in MBA programs worldwide. Jay passed away in October 2013 completing this final Guerrilla book.
Sohail Khan is the world's premier 'Joint Venture Business Expert' and creator of the 'Million Dollar Partnering System.' A sought after business growth speaker, author and marketing Consultant, Sohail works with corporations, SME's and educational establishments worldwide.
Contact
support(at)milliondollarpartneringbook(dot)com
http://www.milliondollarpartneringbook.com/