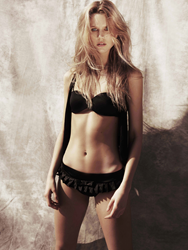 I know my body from every angle, how to channel the attitude an outfit creates, and how to flaunt the shape of a cleverly cut piece of clothing.
New York, New York (PRWEB) May 15, 2014
Jayne Moore is a British born high-fashion model currently living in New York City. Recently, she was requested by the Sports Illustrated Swimsuit offices and discussed the possibility of her inclusion into the upcoming Sports Illustrated Swimsuit issue, slated for release in mid-February 2015. With credits that include working with iconic brands such as John Frieda and Garnier, Marie Claire and Glamour Magazines, Avon and American Beauty, Saks, Macy's, Bloomingdale's, Calvin Klein, and Asos, it's easy to see why Jayne Moore would be on this short list. Sports Illustrated's casting call starts almost a year ahead of the famed magazine's release, to allow for planning, traveling to exotic locations to make the range of perfect swimwear spreads with hot supermodels and rookies.
In the same vein of athleticism that Sports Illustrated promotes, Jayne illustrates how she has been placed in precarious locations with challenging shoots that have pushed her to expand her bounds of creativity and athleticism.
Jayne said, "I have ridden horses and jet skies, driven cars, boats and bikes, I have been suspended on invisible wires for a TV ad, I've trapezed, trampolined and danced to capture that moment, run on cobbled streets and abandoned train tracks in five-inch heels, shot swimwear in sub-zero temperatures, rock climbed, filmed underwater, in jungles and on sand dunes."
Win a Trip to the Next Swimsuit Issue Photo Shoot and See Jayne Moore
The Happy Hearts Fund was created in response to the 2004 Indian Ocean Tsunami that claimed nearly 300,000 lives. Model Petra Nemcova, a survivor of the tragedy, started the Happy Hearts Fund to help families in the wake of natural disasters. Through donations, it's possible to win a 3-day, 2-night trip from anywhere, to the private Sports Illustrated Swimsuit 2015 shoot. Rumored as the next Sports Illustrated swimsuit star, Jayne Moore may also very well be in front of the camera at this shoot.
Jayne Moore says Cardio is Good for the Heart and Good for the Spirit
How is Jayne keeping herself fit and toned for modeling and SI? To keep her body healthy and ready for any adventure a campaign might call for, Jayne Moore loves to run. Running brings freedom and strength. Run anytime, she says, run all the time. Run when you're angry, run in the rain, and let your sneakers take you where they will. Running is not only good for the body, but it's a good mind-cleanse, as well.
Trainers are also an excellent idea. They will correct whatever previously held belief you had about an exercise technique that you may very well be doing wrong. Exercising incorrectly is not just ineffectual, but can also harm your body. A trainer will identify your needs and be motivational.
About Jayne Moore
Jayne Moore is a top fashion model with numerous magazine and advertising credits to her name. Born in the UK, she makes New York City her home and not only loves modeling and the challenges it brings, but also jewelry design and interior design. She is excited about her future swimsuit modeling prospects with the world-renowned magazine, Sports Illustrated.
For more information on Jayne, please visit: http://swimdaily.si.com/2013/04/15/casting-call-jayne-moore/