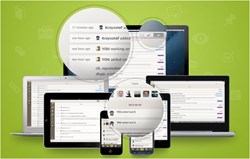 It's a leadership tool I use daily.
ODESSA, Texas (PRWEB) July 22, 2013
Nozbe, the web-based organizational task manager and a leading GTD (getting things done) time management system for iPhone, iPad, Mac and smart phone, has become the "go-to" app for people who are serious about taking control of their professional and personal productivity. In a July 18, 2013 blog titled "Why I'm Scrapping my Excel list for Nozbe," leadership blogger and productivity expert Jayson Feltner tells readers why he calls Nozbe "a must have for leaders."
The powerful, feature-rich task management web application, designed specifically to organize life's many demands using the GTD approach, has grown up since its original release in 2006, and Feltner says productivity fans couldn't be happier.
"The truth is that today's Nozbe is mature and stable," Feltner says. "It can sync with DropBox, Outlook, Google calendar, Evernote and many other high use apps; and although it's largely marketed as a commercial product it is made available to anyone as a free download."
According to Feltner, Nozbe's well-designed, fast interface is user friendly, high performing, and since it is based on time management expert and author David Allen's GTD methodology, it is proven. In fact, Nozbe continues to gain popularity among highly productive individuals who thrive on performing their jobs at maximum efficiency. Nozbe's high-performance "to do" list is just one of the app's most effective project management tools and a favorite among its users.
Like many productivity fans, Feltner was inspired by Allen's methodology when he read the author's national best seller, "Getting Things Done: The Art of Stress-Free Productivity", considered by many to be the foremost guidebook for boosting productivity.
The Nozbe app is based on Allen's GTD method, which helps users avoid getting bogged down with useless tasks that are not critical or simply can't be accomplished.
"By organizing projects into manageable 'action items', Nozbe makes it easy to focus on what you need to do to complete your work today," Feltner says. "It's not just about 'big picture' task management, which can quickly become overwhelming. It's smart and effective for busy people who have trouble juggling many projects and deadlines at once.
"It's a leadership tool I use daily."
When Feltner began making "to do" lists for himself in college, he used an Excel spread sheet to track his daily tasks. His system turned out to be bulky and rigid, but he maintained it until a few years ago when he discovered Nozbe. Feltner shed the Excel spread sheet once and for all and never looked back.
"Nozbe is the perfect companion for high productivity individuals, as well as anyone looking to implement GTD to boost their own productivity," Feltner says.
Feltner describes the tools he considers most useful in the Nozbe app, including mobility, its project-driven design, its ability to separate home and workplace to do lists, and its ability to guide users to focus on those tasks that take precedence.
"I can look at a project and instantly know exactly what I need to do at that very instant," Feltner says.
"I think everyone can benefit from the Nozbe app's seemingly endless capabilities," Feltner says. "A tool like this can help anyone who is committed to taking control of their own productivity."
To find out more, visit Jayson Feltner's website, or download Nozbe's free software.
About Jayson Feltner:
Jayson Feltner is Vice President of Allied Equipment, the nation's largest manufacturer of CNG storage spheres, and an up-and-coming gas treating equipment manufacturer and operator. His personal blog offers Feltner an outlet to share information and thoughts on business, productivity, faith, leadership, and occasionally on other topics he feels can be beneficial to his readers.
Feltner is married with one son, and is a member of Crossroads Fellowship; he has served as a small group leader for the past three years. Feltner is committed to research and leadership study.
For more information, visit Feltner's personal blog site, or email jfeltner(at)alliedeq(dot)com.
###