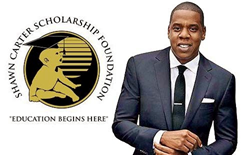 New York, NY (PRWEB) April 11, 2015
Via its online scholarship directory, ScholarshipsOnline.org has announced that the 2015 Shawn Carter Foundation Scholarship program is now accepting applications.
The Shawn Carter Foundation Scholarship provides financial support to high school students as well as undergraduate students entering college for the first time. The purpose of the scholarship is to help under-served students who may not be eligible for other scholarships.
Students who have either graduated from high school or earned their G.E.D. may apply. The minimum grade point average required is 2.0. Students must have a strong desire to go to college and earn their degree. Students must also have a desire to give back to their communities.
The scholarship fund was established by Gloria Carter and and her son Shawn Carter (better known as rapper/ business mogul Jay-Z) to offer a unique opportunity to students who have been incarcerated or faced particular life challenges but still want to pursue higher education. The program gives them a chance that most other programs do not offer.
All applications must be submitted by April 30, 2015. No late applications will be accepted.
For more details and/or to apply, visit:
http://www.scholarshipsonline.org/2013/05/shawn-carter-foundation-scholarship.html
To search hundreds of other 2015 scholarships, visit:
http://www.ScholarshipsOnline.org