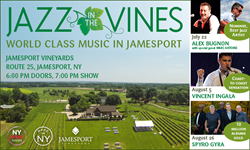 Presenting award-winning artists in a beautiful vineyard setting featuring award-wining wines, delicious wood-fired pizza, and the hospitality of Jamesport Vineyards makes for a very unique summer experience.
New York, NY (PRWEB) June 28, 2017
New York Wine Events is pleased to present its second summer season of Jazz in the Vines at Jamesport Vineyards located on the North Fork of Long Island on Saturdays July 22, August 5, and August 26. Doors open at 6pm; show time is 7pm.
Steps away from the vines and trellises, the winery will convert its lush Great Lawn into a lively music venue featuring an expansive tent housing a stage, professional sound and lighting, and concert hall-style seating. Optional food and drink selections include flat bread pizzas from the vineyard's wood-burning oven and wines by the glass, from Jamesport's portfolio of more than a dozen fine wines, all produced on site.
The Jazz in the Vines summer concert schedule includes:
Saturday, July 22: Alex Bugnon with special guest Marc Antoine
Saturday, August 5: Vincent Ingala
Saturday, August 26: Spyro Gyra
"Jazz and wine are a winning combination," says Sam Kimball, founder of New York Wine Events, producers of the series. "Presenting award-winning artists in a beautiful vineyard setting featuring award-wining wines, delicious wood-fired pizza, and the hospitality of Jamesport Vineyards makes for a very unique summer experience. The audience and musicians alike enjoy the enchanting North Fork setting."
"We are excited to be hosting Jazz in the Vines once again," notes Ron Goerler, Jr. master winemaker and owner of Jamesport Vineyards. "Bringing world class musical acts to the vineyard really resonates with our guests. Last year's concerts were quite popular and we're looking forward to having more people out to enjoy this year's line up as well as our latest vintages."
Soul Train Music award-winning contemporary jazz pianist Alex Bugnon kicks off the trio of summer shows on July 22 along with special guest Marc Antoine. Recipient of two Soul Train Music Awards, New York City transplant Alex Bugnon grew up going to the Montreux Jazz Festival in his hometown in Switzerland. After moving to the U.S., he spent 4 years working as a session musician, backing urban and jazz performers such as Patti Austin, Freddie Jackson, James Ingram, and Keith Sweat. He released his debut album 1989's, "Love Season," which reached the pop charts and the Top 40 of the R&B charts, as did its follow-up, 1990's "Head Over Heels." Subsequent releases in 1991, 1993 and 1995 all placed on the charts and throughout the last decade, Alex's releases have consistently appeared on the jazz charts.
Classically trained at the International School of Classical Guitar, Marc Antoine is also on the July 22 bill. Marc first became known to urban jazz audiences when he toured with Basia in 1988 and soon after, endeared himself to a generation of contemporary jazz fans with his first solo album, "Classical Soul." He later scored numerous airplay hits from the albums that established him as a mainstay in the genre and has also performed on albums of notable artists, including Philippe Saisse, David Benoit, Dave Koz, and Mindi Abair, among others.
One of the fastest emerging contemporary jazz artists in recent history, saxophonist Vincent Ingala takes the stage on August 4. The multi-instrumentalist, composer, and producer has enjoyed widespread popularity since his 2010 critically acclaimed debut album, "North End Soul." In 2012, he was named Billboard Smooth Jazz Artist of the Year and dubbed Sirius XM Watercolors Breakthrough Artist of the Year in 2013. His music consistently hits noteworthy music charts worldwide and includes three #1 hits on the Billboard Smooth Jazz Chart and six singles in the Billboard Smooth Jazz Top 10. Vincent has been a regular on the smooth jazz festival and cruise circuit for several years and is known for his fun-loving stage presence as well as his musical prowess.
On August 26, Citi presents the season finale featuring multiple Grammy® award-nominated Spyro Gyra. Over the last 40+ years, the iconic jazz-fusion group has performed over five thousand shows, released over 30 albums, and sold over ten million albums. Their legendary hits include Morning Dance, Shaker Song, Chasing The Sun, Shakedown, Old San Juan, and many more. With original members Jay Beckenstein and Tom Schuman and other band mates coming on board in the 1990s and 2000s, the internationally renowned act continuously challenges itself musically and is still going strong.
Jazz in the Vines is among the numerous events New York Wine Events presents throughout the year in Manhattan, Brooklyn, Long Island, and New Jersey. The summer concert series takes place rain or shine, with a tent protecting guests from the elements. Advance ticket purchase is highly recommended.
Tickets for Jazz in the Vines are on sale now. Ticket prices vary, ranging $39-$62, based upon show and seat location. Check the web site for details on Up Front Seating sections, General Admission seating, plus round trip travel packages via chartered motor coaches. The well-appointed buses depart from and return to midtown Manhattan and feature amenities including WiFi and climate control. All ticket levels include a guaranteed seat. Jamesport Vineyards is located at 1216 Main Road (Route 25) in Jamesport, New York. Ample, free on-site parking is available.
For more details or to purchase tickets to any of the Jazz in the Vines shows, visit NewYorkWineEvents.com.
About New York Wine Events
New York Wine Events is committed to bringing together New York Metropolitan area wine, food, and music lovers, whether at one of our 10 annual wine festivals and entertainment events, or by browsing our web site to located the best Tri-State food and drink events. Visit NewYorkWineEvents.com.
About Jamesport Vineyards
Jamesport Vineyards is a father-son collaboration that began in 1986 making it one of the North Fork's oldest vineyards. A 165-year-old barn houses the winery and tasting room. The great lawn out back provides the perfect setting for people to gather and enjoy good wine, live music and light fare. In the vineyard, Ron Goerler Jr. continues to ensure the vineyard plantings produce the highest quality of fruit available in the region today. The Goerler Family has seen their 35-year commitment to winemaking result in world-class wines. Visit JamesportWines.com.
###