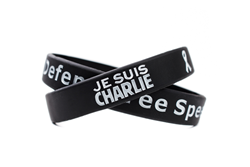 Chicago, IL (PRWEB) March 31, 2015
Millions declared "Je Suis Charlie" (I am Charlie) in support of freedom of expression. One popular way to show what someone cares about is wearing a wristband that stands for the cause. SupportStore's new Freedom of Speech rubber wristband is available now, with same day shipping, for individuals or organizations that want to rally around free speech.
The tragic events that took place at the Charlie Hebdo headquarters on January 7, 2015 in Paris, France left millions worldwide standing in solidarity to protect freedom of speech, freedom of the press and freedom of expression. Many have posted "Je Suis Charlie" on social media to use their free speech to stand with the people of France. Although someone may not agree with what someone else says, they wish to defend their right to day it. Cartoonists around the world had to stop and consider if they were still free to fully express their points of view on topics of the day.
The SupportStore designed "Je Suis Charlie - Defend Free Speech" black 100% silicon rubber wristband is available now in a universal adult size. The band has a debossed message, filled with white and grey permanent color to highlight the message. Each wristband is individually packaged, $2.50 each, or as low as $.69 in quantity.
This wristband, and other items used to shout out about free speech are available on SupportStore's Freedom of Expression assortment page.
A percentage of each sale is made available to be donated to one of several charities.
About SupportStore.com
SupportStore is an online only retailer of items people and businesses use to "shout out what they care about."
Customers choose from 500 in-stock items that ship same day, such as a "Hope Courage Faith" black silicon rubber wristband or a black enamel on metal lapel pin. Customers can also choose to create a custom designed magnets in quantities of 125 or more, many delivering within 10 days.
With a total inventory of over 500,000 items, SupportStore can supply both consumer needs and businesses with products for fundraising events, awareness programs or memorials.
SupportStore was founded in 1999, has 7 employees, a warehouse in St. Louis, and enables buyers to donate a portion of awareness item profits to charity.
###