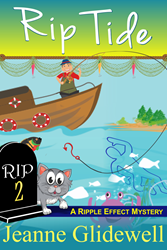 RVers Rip and Rapella Ripple Take the Case
Shrewsbury, Pennsylvania (PRWEB) January 21, 2016
ePublishing Works! announces Rip Tide by Jeanne Glidewell, available in paperback (978-1-61417-821-7, 288 pages, $14.99 USD) and eBook format (978-1-61417-820-0, $3.99 USD).
Genre:
Fiction, Mystery, Cozy
The Story:
Senior citizens and full-time RVers, Rip and Rapella Ripple are spending the holidays with daughter Regina, in their hometown of Rockport, TX. When Regina's new husband, Milo Moore, becomes a suspect in an off-shore harpooning homicide, the Ripples set out to exonerate him.
But proving Milo didn't harpoon his best friend and business partner, Cooper Claypool—with Claypool's spear-gun while out poaching red snapper in the Gulf of Mexico—is more challenging than the Ripples anticipated.
Read an excerpt from the book by clicking here.
Praise for author Jeanne Glidewell:
"Jeanne Glidewell's mysteries are fast-paced, complex – and have just the right hint of romance." ~ Jill Churchill, author of the Grace and Favor Mysteries.
The Ripple Effect Mysteries
A Rip Roaring Good Time
Rip Tide
Ripped to Shreds (coming soon)
Discover the entire series by clicking here.
From Jeanne Glidewell:
"I sit around thinking about ways to kill people...a pastime common to both serial killers and mystery writers. Fortunately for my husband, I'm in the latter category. And that's a good thing since I never kill the same way twice--I'd be hard to profile. One beautiful day while fishing off the shore of Rockport, Texas, it occurred to me it might be fun to harpoon someone. I keep coming up with clever ideas and will only quit writing murder mysteries when I'm down to killing with an icicle."
Meet Jeanne Glidewell:
Author and creator of the New York Times and USA Today Bestselling Lexie Starr Mystery Series, Jeanne lives in Bonner Springs, Kansas. A pancreas/kidney transplant recipient, when not writing, Jeanne is wade-fishing in Rockport, Texas, photographing wildlife, traveling or volunteering as a mentor for the Gift of Life organization.
Visit Jeanne at http://www.jeanneglidewell.com.
Discover and Purchase this and other titles from Jeanne Glidewell by clicking here.
Listen to a recent radio interview with author Jeanne Glidewell
Rip Tide is available through online retailers, booksellers, subscription services and public libraries everywhere.
Wholesale buyers may order through Ingram or Baker & Taylor with return privileges.
About ePublishing Works:
ePublishing Works! is a next generation digital print, audio and ebook publisher for career-minded authors who want to focus on their passion: writing great stories. From digital file preparation, cover design, sales copy, promotion and distribution, to royalty payment, ePublishing Works takes care of business while authors enjoy the freedom to write. For more information and submission guidelines visit us at http://www.epublishingworks.com or click here to request information.