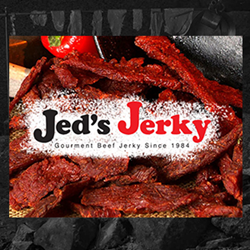 Jed's Jerky offers a wide variety of flavors including Brisket, Cowboy, Turkey, Beef, and Wild Game jerky.
Barstow, California (PRWEB) July 30, 2014
JedsJerky.com has been re-designed from the ground up to meet the needs of the growing jerky fan base in the U.S. The site will respond to fit the screen size used to browse from a desktop, to a tablet, and all the way down to a smart phone. Presently, there are stores in Barstow, California, Beatty, Nevada, and Laughlin, Nevada. Info for Franchising a Jed's Jerky store may be found by clicking this Franchising Info link.
Is all jerky made the same?
Absolutely Not!
Jed says, "Most beef jerky is made from top round or bottom round beef."
Jed's Jerky takes pride in making their jerky. To cook up their world famous Brisket of Beef jerky, they start by using USDA Domestic source brisket of beef and thinly slicing it against the grain directly into a secret sauce marinade for 24 hours. Only natural ingredients are used, plus, all of their briskets are "gluten free!" When tasting the award winning Sweet & Spicy Brisket of Beef Jerky or any other flavor, the softness and goodness just melts in the mouth like no other jerky around!
The old fashioned clientele will love the traditional smoke flavored jerky. Jed also offers "Cowboy Jerky" and "Cowboy Hot Jerky" without any sugar. Just start chewing and have the smoke flavor, black pepper and all the added seasonings explode in the mouth. No chemicals here, this is a natural product without any nitrates! For those feeling adventurous, try the "Hot Spicy Brisket" or "Habanero" flavored jerky and, then, for the totally insane, try the "Fire in the Hole" jerky. This one will fire up the senses for sure!
Saving the best for last, Jed says, "Try the 'Black Peppered Buffalo', it is the leanest jerky yet!" It is a red meat, that is lower in fat and cholesterol than skinless chicken. It is higher in iron and protein than beef and contains an optimum balance of Omega 3's and 6's.
Jed's Jerky offers a wide variety of flavors including Brisket, Cowboy, Turkey, Beef, and Wild Game jerky. They also have special offers and a Jerky of the Month Club to buy jerky in 6 or 12 month subscriptions. They make it easy to buy the best tasting jerky around any time of day or night.
Jerky lovers need to go ahead and give Jed's Jerky a try. Truly, not all jerky is made the same, so come see why people love Jed's Jerky and say it is the best. Visit the website at http://www.jedsjerky.com. Take a look around the new site and enter to win the $500.00 Jed's Jerky Cash Sweepstake. No purchase is necessary to enter and all rules are found at the site.