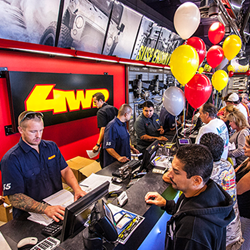 Teaming up with CSC Customs makes great sense … We are excited to have Chris and his crew join the 4WP team.
Compton, CA (PRWEB) February 14, 2015
4 Wheel Parts, global leader in off-road aftermarket performance product sales and installation and subsidiary of worldwide aftermarket SUV, truck and Jeep accessories retailer and distributor Transamerican Auto Parts (TAP), is expanding into Baton Rouge, LA following the recent TAP acquisition of CSC Customs. 4 Wheel Parts will proudly continue CSC Customs' reputation for providing customers with excellent products and service in the Baton Rouge community.
"The Baton Rouge community is a tremendous off-road enthusiast market and teaming up with CSC Customs makes great sense," said 4 Wheel Parts President and CEO, Greg Adler. "We are excited to have Chris and his crew join the 4WP team."
The CSC Customs acquisition marks the second 4 Wheel Parts superstore location in Louisiana and the 68th 4 Wheel Parts aftermarket parts retailer in North America. The location will be maintained by the same dedicated staff that have made the CSC Customs store the region's premier destination for truck and Jeep products and aftermarket performance parts.
CSC Customs was founded in 2009 by 4x4 enthusiasts and automotive industry veterans Chad Black, Chris Wagley and Scott Womack, who set out to insure that those who shared their passion for automobiles "had a place to go where trustworthy technicians handle their vehicles". It is a foundation of trust and expertise which Transamerican Auto Parts is be proud to bring together with their own company mentality: "We sell it. We own it. We Live it."
The expansion into Baton Rouge comes on the heels of 4 Wheel Parts latest new store Grand Opening Celebration at their Little Rock, AR location. The company has five more new store openings projected for 2015 throughout the U.S. and Canada as well as the continued remodeling of each of its locations. Transamerican is also in the midst of expanding its distribution outlets to expedite delivery throughout its entire wholesale and retail supply network.
The new 4 Wheel Parts locations and remodeled stores feature an innovative design, interactive showrooms, and service bays for on-site product installations. All 4 Wheel Parts stores are staffed by ASE-certified technicians capable of installing every part they sell.
About 4 Wheel Parts - Life is Better Off-Road: 4 Wheel Parts is the global leader in off-road, Jeep and aftermarket performance products. With 67 locations across the US and Canada and growing, 4 Wheel Parts Service Centers install all the products they sell. With the nation's largest inventory of off-road all terrain tires, Jeep and truck wheels, lift kits, accessories and more, 4 Wheel Parts serves customers across the country and around the globe.