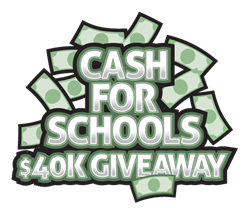 By giving this prize to area schools, we're investing in the educational future of our community
Portland, Oregon (PRWEB) January 24, 2014
01/24/2014 - McLoughlin Jeep, in partnership with KATU News, is announcing their Cash for Schools giveaway. McLoughlin Jeep, Portland-area's newest Jeep dealership, will co-host a contest worth $40,000 and will give away $10,000 to four schools over a four-week time span. The contest will be hosted on KATU News' Facebook page, where participants can submit their votes as of Friday, Jan. 24 and continue until Feb. 20, 2014.
"As a business operating in Portland, we know how necessary it is to give back," said Doug Travis with McLoughlin Jeep. "By giving this prize to area schools, we're investing in the educational future of our community."
Cash For Schools was organized by McLoughlin Jeep in partnership with KATU News to recognize the contributions locals make to the community. As a way to give back, McLoughlin Jeep is providing Portland schools the opportunity to build a stronger foundation for the future. Participating schools include any public or charter high school in Multnomah County, Clackamas County, Marion County, Clark County and Washington County.
Starting today, the community can vote for their school of choice, and each week the winner will receive $10,000. The contest will run until Thursday, Feb. 20, 2014. Each winning school can only be eligible to win the prize once during the contest.
The online voting starts on Jan. 24, 2014 at 4:30 a.m PST and ends on Feb. 20, 2014 at 12:00 p.m. PST (the "Voting Period"). Votes must be received by 11:59 p.m. PST each day of each week during the Voting Period. Each Thursday at 12:00 p.m PST during the Voting Period, the high school with the most valid votes will be chosen as the winner for the week.
Each winning high school will not be eligible to win more than one (1) time. In the event of a tie, one (1) winner will be randomly selected from among the tied high schools entrants. Valid votes will NOT carry over to the next weekly online voting period. Participants can find the Cash for Schools Contest in KATU Facebook page and vote for their favorite school once per day.
For more information about the rules and regulations, please visit Cash for Schools Official Rules at: katu.upickem.net/engine/Rules.aspx?contestid=116019
McLoughlin Jeep, is located at 16800 SE McLoughlin Blvd. in Milwaukie, OR. The dealership offers one of Oregon's largest selections of new and used Jeep vehicles, ranging from wagons and sedans to family-oriented SUVs and heavy-duty trucks. McLoughlin Jeep offers customizable finance plans and features a full-automotive service and parts center with a professional, certified staff.
For more information about McLoughlin Jeep, please visit:
McLoughlinJeep.com, twitter.com/MCLjeep or facebook.com/mcloughlinjeep