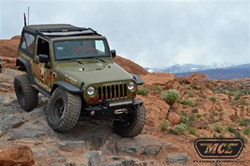 It made perfect sense for MCE to partner with 4WD. We're glad to be working with a company so obviously dedicated to detail and customer service
Compton, CA (PRWEB) February 18, 2015
4Wheel Drive Hardware, prominent retailer of aftermarket and replacement OEM Jeep parts and accessories, has brought a new product to their shelves for Jeep JK, TJ, YJ and CJ models: flexible fenders by Modern Classic Enterprises. Styled after the aggressive "flatty" flat fender look, these new fenders are completely American-made and have the strength and flexibility to protect a Jeep from body damage on the toughest trails.
"Our products were developed out of a need for something better … We were so obsessed with improving that we learned an entirely new area of engineering [plastics] then spent years trying different materials and designs until finally deciding on the off-road plastic blend we use today. We weren't willing to settle for second best, it wasn't an option, which is why it made perfect sense for MCE to partner with 4WD. We're glad to be working with a company so obviously dedicated to detail and customer service," says MCE Sales and Distribution Manager Marc Bowers.
MCE's flexible fenders are drastically unlike any other Jeep fender flares on the market today, with a flat design that blends into the aggressive Jeep style and provides an extra two inches of clearance. They are constructed out of high-quality, long-lasting plastic blend backed with an original owner lifetime warranty against cracking. Not only are the fenders assembled in the USA, but they are produced using US-sourced materials for a completely American product.
Because they are made of plastic, the fenders are very lightweight but remain extremely durable. The plastics used in the flexible fenders are completely UV-stable, so they will not fade when exposed to sunlight and the flares will remain flexible in temperatures as low as -40° F. They will return to their original shape after each impact, resisting warping, sagging, bending and cracking.
The model designed for Jeep JK Wranglers simply bolts on quickly and easily for simple installation which can be 100% returned to stock later if desired. The TJ, CJ and YJ versions are also easy to install, as they fit onto a trimmed OE fender with ease. Each set of fender flares comes with a detailed set of directions so that any customer can install them in about 2 hours.
Jeep owners have plenty of room to customize their MCE flexible fender flares, as they can choose between the Gen II and Gen III options, which come in different styles and can also be painted with standard automotive paint or be plasti-dipped for a temporary new look. They come in three finish options off the shelf: glossy alloy, silver finish and glossy carbon look, all of which are thermally baked to bond the three layers into one which is more durable than powder coat or paint.
About 4 Wheel Parts: 4 Wheel Parts is the global leader in off-road, Jeep and aftermarket performance products. With 67 locations across the US and Canada and growing, 4 Wheel Parts Service Centers install all the products they sell. With the nation's largest inventory of off-road, wheels, lift kits and accessories, 4 Wheel Parts serves customers across the country and around the globe. Life is Better Off-Road™.