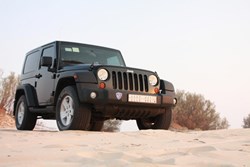 The Jeep V6 engines we're now supplying are ready for installation upon delivery to buyers
Columbus, Ohio (PRWEB) August 30, 2013
Jeep Rubicon is one of the special edition models using the Wrangler platform in the U.S. Motors for this vehicle series can now be reviewed and purchased from the GotEngines.com website online. This company has added the Jeep Rubicon used engine in stock at http://www.gotengines.com/blog/jeep-engines/jeep-engines.
Multiple brands of engines have been experimented with by Chrysler during the development of its Jeep brand. The older inline six engines have been replaced with PowerTech technology.
The 3.8 series is now commonly used in the V6 build inside Jeep SUVs produced after 2005. These motors are now represented in the Got Engines inventory.
"The Jeep V6 engines we're now supplying are ready for installation upon delivery to buyers," a source for the GotEngines.com company said.
Processes for evaluation of previously owned engines are currently in place at this company to expand the consumer confidence in the engines sold.
Engine age and mileage are two of the details that are frequently researched by engine buyers before a purchase is completed. Some motors that are promoted online have exceeded the 100,000 mile mark and could have interior problems.
The validation procedures for Jeep engines and other brands sold by the Got Engines company are reversing the trend of poor quality used engines marketed online. The inspections that are offered do not change the current sale prices that are listed online.
"Each supplier that offers engines for sale to our company has established a relationship for quality and price," the source added.
These measures are additional ways that the GotEngines.com website is gaining ground in the secondary market selling Jeep Rubicon used engines and other brands marketed to buyers. New announcements for engine inclusions to inventory sold online this year will be published as updates are made.
About GotEngines.com
The GotEngines.com company sells its above average used engines online direct for lower than retail prices to consumers. This company purchases all units from trusted companies in North America providing warranty and other incentives upon purchase. The GotEngines.com company launched its toll-free number for national use by customers this year. All engine details and other important information that consumers require before purchases are now provided through this phone number system. The company website is currently updated daily with engine types, warranty details and price information.