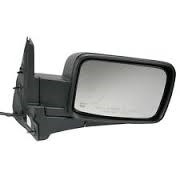 Parts quotes requested are now submitted by company partners that have these parts in stock.
Kansas City, Missouri (PRWEB) July 22, 2013
Jeep SUVs have dominated U.S. sport utility vehicle sales since the 1980s. Current owners of Jeep or other Chrysler vehicles seeking replacement mirrors can now use the Auto Pros USA company to find a match online. This company is now distributing its Jeep side view mirror replacements nationally at http://autoprosusa.com/jeep-wrangler-side-mirrors-sale.
"We've grown into one of the largest sources for used parts on the Internet," said an AutoProsUSA.com company representative. The side view mirror replacements for the SUV series of Jeep parts now stocked are removed from used vehicles. The quality is maintained for these parts, thanks to evaluations of all parts when ordered from distributors.
"All parts promoted online can be shipped for free or reduced rates to any destination in America," the representative added. The used side mirror inventory is one example of the type of external parts that can be researched and purchased through the database promoted to consumers online.
While some retailers can have levels of pricing for each customer, the AutoProsUSA.com company website takes this concept to a new level. Programming changes to the way that quotes are retrieved by consumers online make it easier for review of more than one level of customer pricing. Parts quotes requested are now submitted by company partners that have these parts in stock.
This new method of consumer parts pricing removes the extra research that would normally be required for a person to review more than one website to compare prices. Hourly updates to the database content now accessible ensure that all Jeep mirrors and other parts in stock are accurate in price for buyers.
About AutoProsUSA.com
The AutoProsUSA.com company distributes replacement auto parts in preowned condition for buyers hoping to find lower than MSRP prices for all makes and models online. The company group of automotive experts currently handling all customer service and telephone calls into this company provides immediate access to inventory and up to date pricing. The AutoProsUSA.com company contracts distribution services from secondary partners in the automotive industry to fulfill all orders requested by consumers. This company provides direct access to thousands of parts that receive consistent monitoring for price and stock status.