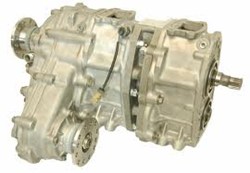 Most of our current inventory can be found on our website.
Montgomery, Alabama (PRWEB) August 07, 2013
Jeep produced trucks from the 1970s until the early 1990s although development for 2014 models is currently under speculation. The TransferCasesforSale.com company is now selling Jeep truck transfer case units to fit into many of the Jeep and Eagle brands that were created for U.S. and Canadian sale. These units can be viewed online at http://www.transfercasesforsale.com/truck-transfer-case.
"We've been a Jeep-Eagle rebuilding company since our inception," a spokesman from the TransferCasesforSale.com company said.
Locating parts for Ford and Chevrolet pickup trucks is somewhat easier due to the larger distribution for specific drive train parts.
The inclusion of the Jeep units now online is designed to give access to rebuilt and used units to all buyers. This company has improved its supply chain partners and distribution network to be able to sell and distribute more hard to find parts and accessories for 4x4 vehicles.
"Most of our current inventory can be found on our website," the spokesman added. A toll-free customer service telephone number was integrated this year for research purposes by consumers. This number is maintained by parts specialists and answers to questions about inventory, parts numbers and warranty details can be accessed from this number.
Consumers who are researching more than the Jeep transfer case assemblies that are currently offered can make use of the customer service number to find information about what inventory is or is not currently available for sale.
New consumer interaction is now provided by this company through its content management system online at http://www.transfercasesforsale.com/blog. This section is now filled with inventory changes, price incentives and last-minute updates to sales programs and shipment details for all buyers online.
About TransferCasesforSale.com
The TransferCasesforSale.com company supplies used and reconditioned case assemblies for buyers inside the U.S. and Canada. This company employs a dedicated team of specialists who perform rebuilds for American and foreign made transfer cases. All prices that are generated through the company ordering systems online are accurate and updated by company specialists. The TransferCasesforSale.com company generates its two-year limited warranty coverage policies for attachment with every sale made by consumers. Inventory is updated on a continuous basis to allow easier navigation for finding replacement 4x4 assemblies.