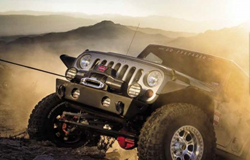 This new WARN winch is built for Jeep owners who push the limits of what their rig can do … We're glad to be able to offer [it] to our customers.
Compton, CA (PRWEB) December 23, 2014
4Wheel Drive Hardware is proud to announce the latest innovation in winching technology has hit their shelves and is now available to Jeep owners across the country: the new ZEON Platinum WARN Winch. By combining the latest technological advances with a history of strength and reliability, WARN has created one of the best Jeep accessories on the market today.
What truly sets the new WARN winch apart from the competition is the Advanced Wireless Remote, unique to the ZEON. Not only does the remote provide control over the winch, but also features a controlled clutch and feeds instant thermometrics data to the screen as well as monitors the vehicle's battery charge level. Finally, the remote comes with the option of connecting two additional accessories using the aux controls, so it can be made to operate, for example, lights and a compressor as well as the winch. The included USB charging cable and car charger adapter makes recharging the wireless remote easy and convenient.
Winches are put through a lot of abuse and need to be built tough enough to handle hauling a Jeep through the most difficult terrain in the worst conditions. WARN's newest winch is more than up to the challenge, having proven itself to be twice as durable as the previous generation of winches through rigorous testing. The WARN Platinum ZEON also bested the competition with a 44 feet/minute no-load line speed – 20% faster than competitors, and a new IP68 waterproof rating for protection against the elements.
"This new WARN winch is built for Jeep owners who push the limits of what their rig can do. It's durable, fast and innovative … with the advanced remote, it's one of the best you can buy. We're glad to be able to offer this new line to our customers," says Jamey Paine of 4WD.
Additional features of the ZEON Platinum WARN winch include a new high-performance motor, a more efficient amp draw, a stronger gear train, maximum corrosion resistance, an integrated rope anchor and a variety of winch accessories available for purchase – all through 4WD. Additional specs, features and information may be found in this blog post.
About 4Wheel Drive Hardware: 4Wheel Drive Hardware has an unrivaled passion and focus for the off-road Jeep industry. It is a top industry provider of Jeep parts and accessories, supplying customers across the world with any aftermarket Jeep parts they need, from Jeep Cherokee lift kits to Jeep gifts and Jeep soft tops. Contact 4WD and be connected, not with sales specialists, but with passionate enthusiasts. The toll-free order number is 800-555-3353.