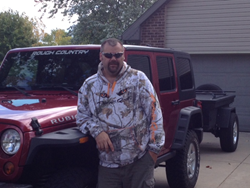 It is an incredible feeling to be chosen as September's winner - I am somewhat in shock.
Compton, CA (PRWEB) October 04, 2014
The 4Wheel Drive Hardware Slayer Jeep is nearly combat-ready after three months of voting in the 4WD Scrap Heap to Slayer Jeep Sweepstakes, but there is still one more prize on the table: a $1,000 4WD shopping spree. Throughout October, anyone can visit http://www.4wd.com/zombies and sign up to receive one of 4WD's 2014/15 Zombie Hunting Permit Jeep decals and enter for a chance to win the $1,000 shopping spree.
So far during the sweepstakes, 4WD has awarded three grand prize winners: Joseph R. won the Rubicon Express 3.5-inch Superflex Suspension in July, Frank F. won a BHF front bumper from Poison Spyder and RockBrawler rear bumper in August and, most recently, Glen J. of Green Bay, WI won a set of Mickey Thompson tires and wheels in September. Congratulations to all three on their new Jeep parts!
"It is an incredible feeling to be chosen as September's winner - I am somewhat in shock. I have a 2011 Wrangler Unlimited Rubicon that is my daily driver and also spends more than its fair share of time exploring the north woods of Wisconsin with Jeep friends! I have many upgrades to the Jeep already and the wheels and tires will be a wonderful addition," says September Winner Glen J.
One final winner remains to be chosen at the end of October for the $1,000 4WD shopping spree, and ten other winners will also be awarded for the top number of sweepstakes shares. Each of these ten winners will receive a variety of zombie products and accessories, ranging from T-shirts to survival kits.
The 4WD Slayer Jeep has been upgraded from a piece of scrap into a zombie combat machine. Each month, the part with the most votes has been fitted to the Jeep, along with many other upgrades in between. What began as a hunk of rusted metal wrapped around an engine has, in three months, been turned into a head-turning, zombie-mowing machine. The transformation has all been documented on the 4WD website, along with installation how-to's and tips for putting all the parts on the 2000 TJ.
About 4Wheel Drive Hardware: 4Wheel Drive Hardware is a top industry provider of Jeep parts and accessories, with a focus and passion for the off-road industry. Discover the latest products like Jeep soft tops, exterior accessories, and Jeep lift kits, and connect with other Jeepers around the world. The toll-free order number is 800-555-3353.