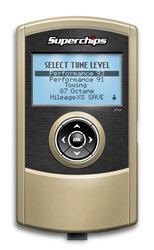 We're first to market for 2014 Wranglers and expect this product to be well-received by 4WD customers.
Columbiana, Ohio (PRWEB) January 24, 2014
4WD, leading provider of aftermarket Jeep parts and accessories, is now offering the new Superchips Flashpaq for 2014 Jeep JK Wranglers. Superchips is a Powerteq brand and the Flashpaq is the first tuner to market for 2014 Wranglers. The tuner delivers multiple options for Jeep owners seeking popular aftermarket upgrades without the annoyance of completely re-calibrating computerized vehicle settings.
"Superchips is excited to partner with 4WD and offer our unique Flashpaq that combines all of the best tuner aspects that off-roaders crave into one tuner," says Richard Roberts, Powerteq Western Regional Sales Manager. "We're first to market for 2014 Wranglers and expect this product to be well-received by 4WD customers."
Being first to market has created a unique situation for Superchips. In 2011, there was a new computer introduced into the Jeep platform then in 2012 there was a new engine which led to further adjustments. "We had to adjust for both of those introductions and now there's a tuner demand for current Jeeps that Superchips is prepared to fill," says Roberts.
"Affordability is important for JK owners and the Flashpaq has amazing features for a great price," says Ahad Mirza, 4WD Performance Category Brand Manager. "Their two-year limited power train warranty shows Superchips' confidence in the Flashpaq."
4WD's Superchips Flashpaq for Wranglers features:

30 horsepower and 30 pounds of torque
Tire and gear adjustments necessary for Jeeps
A Tire Pressure Monitoring System (TPMS) with the threshold adjusting accordingly for psi
Use of device like a scan tool to set up for maximum amps when using winches or other accessories
An industry exclusive two-year limited power train warranty
Based in Sanford, Florida, Superchips is an automotive industry leader in tuning for late model cars, trucks, and Jeeps. Founded over 30 years ago, the company originally supplied British racers with high-end solutions and eventually focused its efforts on designing and selling hand-held programmers. Superchips was acquired by MSD Performance nine years ago and today its customized products are top sellers in the racing and off-roading communities.
About 4Wheel Drive Hardware: 4Wheel Drive Hardware is a top industry provider of Jeep parts and accessories, with a focus and passion for the off-road industry. Whether you're looking for Jeep fender flares, exterior accessories, or Jeep lift kits, check out 4WD and connect with other Jeepers worldwide. The toll-free order number is 800-555-3353.