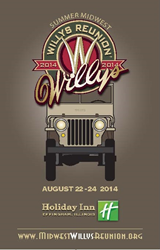 The Willys reunions throughout the year bridge the Jeep's fabled past with a new generation of enthusiasts.
Columbiana, OH (PRWEB) August 20, 2014
4WD, prominent provider of aftermarket Jeep parts and accessories, will be among sponsors at the Summer Midwest Willys Jeep Reunion & Swap Meet August 22-24. Effingham, Illinois will host this weekend's event featuring classic Willys vehicles on display, a guest speaker, various vendors and entertainment. Annual Summer Willys Jeep Reunions are held at different locations throughout the Midwest every year and 4WD is contributing door prizes for drawings.
Willys Jeeps began being manufactured in 1941 and are part of the foundation that launched the Jeep industry. Now regarded as iconic World War II Jeeps, Willys were highly adaptable four-wheel drive vehicles designed for general purpose use.
This summer's scheduled guest speaker is Mike Picard, designer and builder of an electric-powered 1952 M38 dubbed the Electro-Willys. "I've got a Powerpoint presentation and about 75 photos for the Willys Reunion," says Picard. He plans to focus on construction and the phases the Electro Willys build went through and will discuss the lessons the build taught him.
"The Willys reunions throughout the year bridge the Jeep's fabled past with a new generation of enthusiasts," says 4WD Website Manager Kelly Young. "A lot of Willys owners have newer as well as older model Jeeps and events like these gather everyone to show their appreciation."
This year's banquet will be held at the Thelma Keller Convention Center right next to the Holiday Inn at 1301 Avenue of Mid America in Effingham. The parking lot will be full of Willys enthusiasts checking out rigs on displays, vendor offerings and tech events. The Willys Nelson Band will appear onsite performing songs as tributes to classic Willys Jeeps.
About 4Wheel Drive Hardware: 4Wheel Drive Hardware is a top industry provider of Jeep parts and accessories, with a focus and passion for the off-road industry. Discover the latest products like Jeep lift kits, exterior accessories and Jeep soft tops, and connect with other Jeepers around the world. The toll-free order number is 800-555-3353.