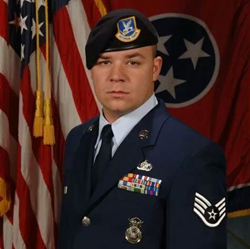 He thinks everyone has forgotten about him, like they do most wounded warriors.
Compton, California (PRWEB) June 10, 2014
At the Memphis Redbirds game on June 6, 4 Wheel Parts Memphis unveiled a custom-built Jeep for Technical Sergeant Russell Logan, an Air Force veteran who lost a leg to an IED in Afghanistan. Tricked out with top of the line exterior accessories, Russell's new Jeep was rebuilt all the way up from the original chasis.
"He thinks everyone has forgotten about him, like they do most wounded warriors, considering how long it's been," said MSgt Anthony Lee, who has known Russell since he first enlisted in 2003.
The Jeep began as a yellow 2000 Jeep Wrangler. Some of the upgrades include a Magnaflow cat-back exhaust system, a four-inch Teraflex short arm lift, G2 differential covers and gears, Smittybilt armor and Pro Comp shocks.
To give the Jeep a military theme, the vehicle gurus at 4 Wheel Parts Memphis also hydro-dipped the valve cover and some of the interior trim pieces with American flags and airbrushed Russell's unit emblem into the side of the vehicle.
The event was made even more memorable as Russell's previous commander, General Harry Montgomery, was called in to throw the first pitch of the game.
The build was made possible by the professionals at 4 Wheel Parts Memphis as well as generous donations of time and funding from the Midsouth Rally for the Wounded Warriors and the Midsouth Jeep Club. They kept the project a secret for months until they finally unveiled it at the top of the third inning.
The Jeep spent the weekend on display at the Tennessee 164th Airlift Wing. It will be spending the rest of the week at the 4 Wheel Parts Memphis store, where it will remain until their grand unveiling on Saturday, June 14, after which Russell will finally be able to take it home.
The June 14 unveiling will feature 20+ vendors, many of them military-affiliated, as well as DJs, food and a car crush.
About 4 Wheel Parts: 4 Wheel Parts is specialized retailer of aftermarket parts and accessories for off-road and 4x4 enthusiasts. They have 64 locations in North America, where 4 Wheel Parts installs all the products it sells while also operating a robust mail-order and e-commerce distribution network to serve customers across the country and around the world. 4 Wheel Parts carries North America's largest inventory of truck and Jeep parts, including Jeep lift kits, suspension systems, truck accessories and more. Their toll-free order number is 877-474-4821.