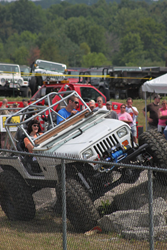 Jamboree is fast becoming the must-see Jeep event of the year. Thousands of Jeepers attend and there are literally Jeeps as far as the eye can see. It's an absolute blast
Compton, CA (PRWEB) September 25, 2014
Each year as fall draws ever closer, 4Wheel Drive Hardware hosts its Jeep Jamboree, and this year it's springing to life in Columbiana, OH Sept. 26-28. Throughout the weekend, 4WD will be giving away over $10,000 in Jeep parts and prizes, not to mention leading family-friendly Jeep events all weekend.
This year's event will mark 16 successful years of Jeep Jamborees as enthusiasts from all across the Northeast wheel into Columbiana. Last year, over 900 Jeeps and thousands of enthusiasts attended – a number which is only expected to grow this year. As always, admission is free.
"We go every year. It's a family event for us and our favorite part is just the chance to interact with other people who share our love of jeeps," says enthusiast Wendy Callahan.
Jeep owners and lovers of all dispositions will have plenty to do as events range from rock crawls, mud pits, obstacle courses and show-n-shines to a Little Jeepers kids area, hourly prize drawings and a huge variety of vendors. 4WD will also be giving away a $1,000 4WD shopping spree in a special drawing at noon Sunday.
"Jamboree is fast becoming the must-see Jeep event of the year. Thousands of Jeepers attend and there are literally Jeeps as far as the eye can see. It's an absolute blast," says 4WD's Kelly Young.
4WD's extensive selection of products such as Jeep wheels and tires will be on sale for up to 20% off throughout the event. Opportunities for savings will be abundant, and 4WD's expert staff and ASE certified technicians will be on hand to provide feedback, suggestions and advice.
Additional perks of attendance include free goody bags to the first 1500 vehicles to enter, plenty of food concessions to choose from and Jeep & Greets. There will even be a craft and merchant show with candles, jewelry, purses and more.
For a full schedule of events, visit http://www.4wd.com/jeep-events/jamboree.aspx.
About 4Wheel Drive Hardware: 4Wheel Drive Hardware is a top industry provider of Jeep parts and accessories, with a focus and passion for the off-road industry. Whether you're looking for Jeep decals, exterior accessories, or Jeep wheels, contact 4WD and connect with other Jeepers worldwide. The toll-free order number is 800-555-3353.