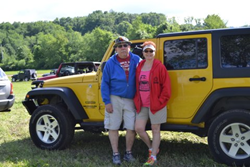 It's not often that someone calls you up and says, 'hey, you've won a free lift kit!'. It feels pretty good!
Columbiana, Ohio (PRWEB) August 06, 2014
The July winner of the "Scrap Heap to Slayer Jeep" sweepstakes by prominent retailer of aftermarket Jeep parts and accessories, 4Wheel Drive Hardware, has been announced as voting moves into phase two to determine which front and rear bumper set will be installed on the Jeep. For the month of August, enthusiasts may visit 4WD's online entry page to add their vote to the Bestop, Poison Spyder or Smittybilt bumper packages for a chance to get the winning set for their own rig.
4WD would like to congratulate Joseph Romas of Pennsylvania on his new Rubicon Express 3.5-inch Superflex Suspension for his 2011 Jeep Wrangler Unlimited Sport! In a tight race, the Rubicon Express 3.5-inch Superflex Suspension came out on top as the best of the Jeep lift kits for zombie slaying with over 5,000 votes.
"It's not often that someone calls you up and says, 'Hey, you've won a free lift kit!'. It feels pretty good!" says Romas. He purchased his JK new and has transformed the stock rig into an off-roader with new front and rear bumpers, a winch and a small two-inch lift – all from 4WD.
Joseph was not the only winner for July. Hunter Norris was the top bonus point earner for the month, with 581 points from 4WD Facebook likes and social media and URL shares. He will be receiving his $100 4WD gift certificate and Zombie Survival Kit, including a zombie t-shirt, zombie hunting permit and zombie attack dog tag, in the mail very soon. Another bonus point winner will be chosen at the end of August for the person who has gathered the most points by sharing the sweepstakes with their friends.
4WD will be publishing the entire build story on their website as the sweepstakes progresses to allow enthusiasts to keep up with the progress on the Slayer Jeep. Also available through 4WD are zombie gear packages, t-shirts, Zombie Hunting Permit Jeep decals, zombie attack dog tags, zombie gear and more.
4Wheel Drive Hardware is a top industry provider of Jeep parts and accessories, with a focus and passion for the off-road industry. Discover the latest products like Jeep soft tops, exterior accessories, and Jeep lift kits, and connect with other Jeepers around the world. The toll-free order number is 800-555-3353.