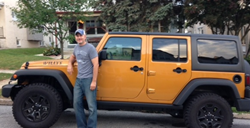 I'd gotten all the catalogs in to start ordering parts and was thinking about what to do, so winning the bumpers was perfect timing.
Columbiana, Ohio (PRWEB) September 05, 2014
Leading provider of aftermarket Jeep parts and accessories, 4WD, has awarded Frank Ferriola of Conshohocken, Pennsylvania as the latest winner in its "Scrap Heap to Slayer Jeep" Zombie Sweepstakes. Ferrriola won a Poison Spyder BFH front bumper and RockBrawler rear bumper for his 2014 JK Unlimited Willys Jeep. In September, entrants are voting for a tire and wheel combo online at the entry page, and the winning package will be randomly awarded to one lucky off-roader.
"I heard about the sweepstakes through the Wrangler Forum," says Ferriola. "I was a Wrangler owner in the past and bought my Willys JK Unlimited in July. I'd gotten all the catalogs in to start ordering parts and was thinking about what to do, so winning the bumpers was perfect timing."
Ferriola has a 15-year-old stepdaughter who lives and breathes zombies so she's equally excited that he won. The Pocono Mountains and New Jersey Pine Barrens are fairly close to him in Pennsylvania and this is where he spends time off-roading in his Jeep.
4WD also named a social sharing winner who gained the most sweepstakes bonus points. James Barton, owner of a 2014 Wrangler Unlimited Rubicon will receive a $100 4WD gift certificate and a "Scrap Heap to Slayer Jeep" t-shirt for his efforts. Entrants who share the sweepstakes url with their Jeep and truck friends on social platforms or like 4WD on Facebook collect bonus points.
The Jeep parts receiving the most votes are being incorporated into a build transforming a 2000 TJ Jeep scoured from the salvage yard into a decked out zombie slayer. After July votes were tallied, a Rubicon Express 3.5 inch Superflex lift kit was added and the Poison Spyder bumpers emerged victorious with the most votes in August. In September, there are three competing tire and wheel packages that entrants can vote on and everyone who votes receives a free Zombie Hunting Permit decal for their rig.
The Slayer Jeep will be on display during the Lucas Oil 4 Wheel Jamboree at the Indiana State Fairgrounds September 19-21, then will make an appearance at the 4WD Jamboree in Columbiana, Ohio September 26-28.
"When the 4WD Jeep is displayed at these events, the people who voted on parts can see how they had a hand in shaping the ultimate zombie slaying machine," says 4WD Website Manager Kelly Young. "We were at the 4 Wheel Parts Truck & Jeep Fest in Orlando and off-road enthusiasts gobbled up gear like Zombie Hunting Permits and Zombie Attack Dog Tags."
Zombies continue their relentless grip on the public's imagination and hold a special fascination for off-roaders and survivalists. Back in June, Hyundai made its "Walking Dead" Special Edition Tucson available to consumers. The limited edition rig includes a 72-hour zombie survival kit and commemorates the 10th Anniversary of The Walking Dead graphic novel series that spawned the popular AMC TV show.
About 4Wheel Drive Hardware: 4Wheel Drive Hardware is a top industry provider of Jeep parts and accessories, with a focus and passion for the off-road industry. Discover the latest products like Jeep lift kits, exterior accessories and Jeep fender flares, and connect with other Jeepers around the world. The toll-free order number is 800-555-3353.