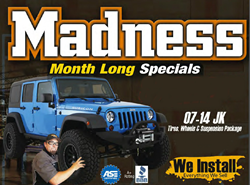 Madness in March is one of the days of the year when people who show up in 4 Wheel Parts stores are going to be blown away by our deals.
Compton, California (PRWEB) March 05, 2014
4 Wheel Parts, industry leading retailer of aftermarket parts for off-roaders, is holding a one day sale this Saturday, March 8 and other sales throughout the month. The Madness in March sale happening nationwide will consist of exclusive in store discounts, installation specials on truck and Jeep parts, and giveaways for 4x4 enthusiasts. Stores located in Oregon, Washington state, and Hawaii will hold their Madness in March onsite sales on Saturday March 15, 2013.
"Madness in March is one of the days of the year when people who show up at our store are going to be blown away by our deals," says Austin Greaney, 4 Wheel Parts Orlando sales associate. "We're going to have a bikini car wash, a car crush for Jeeps to drive on, free food, and a bouncy house for kids."
4 Wheel Parts stores in the U.S. and Canada will feature:

Custom vehicles on display
Extended hours
Onsite installation specials
Product specials and promotions
Free food and drinks
4 Wheel Parts locations throughout the United States and Canada are getting set for big crowds and stores will open on March 8 from 9 a.m. to 5 p.m. The total number of 4 Wheel Parts stores in North America is 64, with the newest location recently opened in Alberta, Canada.
All of these locations feature online Google virtual tours of their showrooms, allowing users to navigate the entire premises and view inventory before they visit. The stores also feature installation bays, so when 4x4 enthusiasts take advantage of Madness in March deals they can also receive discounted pricing on part installation.
About 4 Wheel Parts: 4 Wheel Parts is a retailer and service provider specializing in aftermarket parts for off-road and 4x4 enthusiasts. With 64 locations in North America, 4 Wheel Parts supplements its retail centers with a robust mail-order and e-commerce distribution network to serve customers around the country and around the world. 4 Wheel Parts carries a large inventory of truck and Jeep parts, including lift kits, mud flaps, wheels and more.