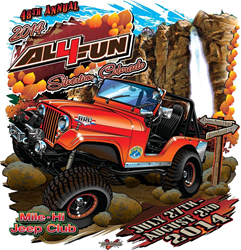 We're going to have a vehicle recovery-type obstacle course which will be new to the All-4-Fun event.
Compton, CA (PRWEB) July 25, 2014
Industry leading retailer of aftermarket parts for off-roading, 4 Wheel Parts, is one of the sponsors of the upcoming All-4-Fun Jeep event in Colorado's Rocky Mountains. Organized by the Mile-Hi Jeep Club, the All-4-Fun wheeling and activities span from July 27 – August 2 in Silverton, Colorado. Happenings include wheeling trips, a parade, suspension testing, a competition and barbecues.
Since 1967, the Mile-Hi Jeep Club has staged the event in the Colorado Rockies. All-4-Fun rotates its locations and this will be the sixth time it has been held in Silverton. The trail rides allow participants to drive at the level they are comfortable with that is suitable to their vehicle. It's smaller and more intimate, with daytime trail runs and nightly events under a big top tent.
"It's my first time and I'm excited to go," says Jeremy Huskey, Denver 4 Wheel Parts Store Manager. "We're going to have a vehicle recovery-type obstacle course which will be new to the All-4-Fun event. There are already over 200 vehicles registered, so it's going to be pretty big for the Mile-Hi Jeep Club."
Vendors and sponsors for the weeklong event include Bestop, Poison Spyder, Superchips, and Synergy Mfg. There will be an entire day dedicated to vendors who will be selling Jeep parts and accessories. 4 Wheel Parts is presenting a Vehicle Necessities Competition on Wednesday, July 30 at 8 p.m.
"I did the Jeepers Jamborees and the Fordyce events and I didn't know what to expect at my first All-4-Fun," says Donnavan Bronk, Colorado Springs 4 Wheel Parts store manager. "You have more opportunities and options for activities in the downtime. Even though it's family-oriented, there are game nights specifically for adults and All-4-Fun is a well-rounded event."
About 4 Wheel Parts: 4 Wheel Parts is a retailer and service provider specializing in aftermarket parts for off-road and 4x4 enthusiasts. With more than 60 locations throughout North America, 4 Wheel Parts supplements its retail centers with a robust mail-order and e-commerce distribution network to serve customers around the country and around the world. 4 Wheel Parts carries a large inventory of off-road products when you're looking for wheels, mud flaps, lift kits and more.