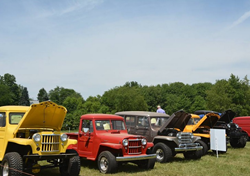 This Festival is unique because it offers a wide range of experiences over a three-day weekend that appeal to all ages and all types of Jeep enthusiasts.
Columbiana, Ohio (PRWEB) June 11, 2014
4WD, industry-leading provider of aftermarket parts and accessories for Jeeps, is slated to be a Platinum Sponsor at this year's 4th annual Bantam Jeep Heritage Festival in Butler, Pennsylvania. Events the company will sponsor during the three-day festival June 13-15 include the inaugural Bantam Jeep Muddy 5K foot race, the Moraine trail ride, the Glacial Interpretive Driving Tour, and the Little Jeepers Playground. Among the how-to clinics 4WD is presenting are ones on winches, soft tops, and tires and wheels to enhance a Jeep's appearance.
"This Festival is unique because it offers a wide range of experiences over a three-day weekend that appeal to all ages and all types of Jeep enthusiasts," says Patti Jo Lambert, Bantam Jeep Heritage Festival director. Past attendees have been impressed by the WWII encampment erected in tribute to the military aspect of Jeeps and the speakers who give talks on relevant topics.
Jeep historian Julius Lorentzson and Butler County Historical Society member Lee Bortmas are scheduled to give talks along with author and military historian David R. Hustler. Hustler's focus is on the role of Jeeps during the Vietnam War. "My talk will cover Vietnam War uniforms, weapons, and the Jeep M-151A1 I'm restoring," he says.
Heritage Jeeps take center stage, but this year there are new activities aimed at wider audiences. These include an inaugural Bantam Jeep Muddy 5K race where 500 competitors will tackle the Jeep playground and obstacles requiring them to perform like tricked-out Jeeps. Other events making their debut are tethered hot air balloon rides, a historic travel tour with bygone recipes, and a Bantam garage.
How-to clinics will educate drivers about Jeep-related aftermarket parts like winches, wheels, and tires. Nearly 100 onsite vendors will sell parts and accessories including Jeep soft tops and seat covers.
The Butler County Tourism & Convention Bureau teams with the Butler County Historical Society, local organizations, Butler downtown, volunteers and Jeep enthusiasts to present the annual festival. Downtown Butler and Cooper's Lake Campground near Slippery Rock, Pennsylvania are the sites celebrating the Jeep's birth.
Last week, the French government organized a celebration to commemorate the June, 1944 D-Day invasion. France's beach at Normandy was invaded by military vehicle enthusiasts along with tanks, trucks and plenty of Jeeps. Major world leaders attended the 70th anniversary of the greatest amphibious assault in military history and President Obama was on hand.
About 4Wheel Drive Hardware: 4Wheel Drive Hardware is a top industry provider of Jeep parts and accessories, with a focus and passion for the off-road industry. Whether you're looking for, interior accessories, Jeep decals, or clothing, visit 4WD and connect with other Jeepers worldwide. The toll-free order number is 800-555-3353.