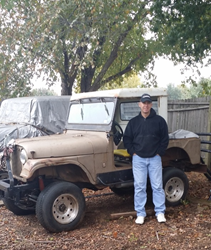 I am so excited to be a winner in the Scrap Heap to Slayer Jeep sweepstakes! Shopping at 4WD is always like a 'kid in a candy store'.
Columbiana, Ohio (PRWEB) November 21, 2014
Prominent provider of aftermarket Jeep parts and Jeep accessories, 4WD, has awarded a $1,000 shopping spree to Jeff Rainey, who entered the October drawing in the "Scrap Heap to Slayer Jeep" sweepstakes. Hailing from Copper Canyon, Texas, Rainey was randomly selected from thousands of off-roading enthusiasts who participated in the seasonal sweepstakes that had entrants voting for parts and accessories to garnish a TJ Jeep equipped to slay zombies. He intends to use the parts and accessories from the spree to soup up his own 1968 Jeep Willys CJ5.
"I am so excited to be a winner in the Scrap Heap to Slayer Jeep sweepstakes!" says Rainey. "Our Jeep, as it currently stands, is like a blank slate and 4Wheel Drive Hardware is perfect for building it into a very usable vehicle for both on and off the road." Rainey admits it will be difficult to decide which parts to put on first and lists seats and a roll cage, wheels and tires, and body armor as candidates. He's excited about the spree because "Shopping at 4WD is always like a 'kid in a candy store'."
"4WD is doing its part to help the off-road community prepare their rigs for any type of journey or survival scenario including zombies," says 4WD Website Manager Kelly Young. "We put enthusiasts in the driver's seat and let them pick the exterior parts and accessories to add to our slayer TJ Jeep – and they responded in a big way."
Many of the fans who entered the four month long sweepstakes were given free 2014/15 Zombie Hunting Permits and a 4WD catalog. While people were voting on parts to add to the slayer Jeep, they were entering to win prizes for their own vehicles. In July, the lucky winner was awarded a Rubicon Express Lift Kit, the August winner received a Poison Spyder Bumper Package and Mickey Thompson Tires & Wheels were awarded to the September winner.
Glen Johnson of Green Bay, Wisconsin called winning the tire and wheel package an incredible feeling. "I have a 2011 Wrangler Unlimited Rubicon and the wheels and tires will be a wonderful addition," he said.
On top of picking random winners, there were 4WD gift certificates and "Scrap Heap to Slayer Jeep" t-shirt prizes given to those who shared the most on social media. Jamie Beauchamp of Fort Collins, Colorado amassed points for sharing the URL with her truck and Jeep friends on Facebook and other social media.
An account of the build's origins can be found in this article and the sweepstakes has numerous YouTube videos accompanying it. 4WD is selling zombie gear like survival packs, reflective 2014/15 Zombie Hunting Permit decals, zombie attack dog tags and t-shirts.
About 4Wheel Drive Hardware: 4Wheel Drive Hardware is the foremost off-road industry provider of parts and accessories for Jeeps. Get up to speed on the latest exterior accessories, Jeep decals and Jeep wheels, and connect with other Jeepers around the world. The toll-free order number is 800-555-3353.