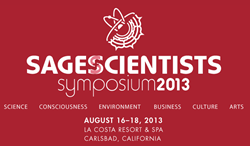 If you fail to listen to your customers consistently, you are going to lose your customers to the brands that do.
Carlsbad, CA (PRWEB) August 17, 2013
The Chopra Foundation invites everyone to take part in a fantastic journey into the intersection of science and spirituality the weekend of August 16–18, 2013. The live streaming video of the Foundation's Fourth Annual Sages and Scientist Symposium is available now on the Chopra Foundation website: http://www.ustream.tv/channel/sages-scientists.
Moderated by Deepak Chopra, the Sages and Scientist Symposium brings together distinguished experts in science, business, healthcare, and humanity to examine and seek solutions to the problems that affect humanity's evolution to a more peaceful, just, and sustainable society. Today, Arianna Huffington and Jeff Pulver will discuss the evolution of social media, hypercommunications, and the flaws in the way people measure success today.
The Evolution of Social Media
This afternoon, Jeff Pulver, cofounder of Vonage and creator of the 140 Characters Conference, will discuss social media and hypercommunications. Pulver believes that the way people communicate is evolving rapidly.
The days of brands issuing a unilateral press release and calling it communication are over. To be successful, brands must listen to customers and engage with people serendipitously in a genuine, human way.
Pulver maintains that brands can have feelings. "If you fail to listen to your customers consistently, you are going to lose your customers to the brands that do," he says.
The Third Metric
Also this afternoon, Arianna Huffington, founder of the Huffington Post, will discuss the Third Metric of Success. Today, most people measure success by a person's accumulation of wealth and influence. The proverbial missing leg of the stool, says Huffington, are the elements that make life rich and fulfilling.
Huffington believes that people often do things that are harmful to their health while pursuing success. She points to the increase in the use of sleeping aids and antidepressants to combat stress and work pressures.
Arianna's top five tips for reducing life's stresses:
1. "Sleep your way to the top!" Arianna believes people need to get more sleep and rest.
2. Unplug and recharge. Switch off your devices.
3. Make time to connect to a different part of yourself every day, whether through yoga, meditation, or just doing something enjoyable.
4. Be grateful. Remember to be thankful. Human minds tend to focus on the negative.
5. Do unto others. Virtue increases feelings of well-being.
The Sages and Scientists Symposium is available for viewing at http://www.ustream.tv/channel/sages-scientists during the following hours:
Friday, August 16: 1:00 PM – 9:00 PM Pacific Time
Saturday, August 17: 8:00 AM to 9:00 PM Pacific Time
Sunday, August 18: 8:00 AM to 12:30 PM Pacific Time
The complete schedule of presenters and panelists, and their speaking topics, is located at: http://www.choprafoundation.org/events-initiatives/sages-scientists/schedule/.
About the Sages and Scientist Symposium
Moderated by Deepak Chopra, the Chopra Foundation's Sages and Scientists Symposium is an exploration of the stream of fantastic new discoveries flowing from the scientific community and its convergence with ancient spiritual beliefs to find a single reality. The event draws together contemporary thought leaders in the areas of science, business, healthcare, and humanity.
Symposium presentations fall into five major categories:

Science and Consciousness—Qualia: Going Beyond Quantum Mechanics and Quantum Physics
Leadership—Defining a New Leadership: Serving a New Humanity
Well-being—Conscious Living ~ Sustainability, Environment, Health, Technology, Education, Economy, Relationships
Peace and Justice—Living Harmoniously
World Transformation—Challenges and Creative Solutions: It's Time to Do
About the Chopra Foundation
The Chopra Foundation is a 501 (c) (3) organization dedicated to improving health and well-being, cultivating spiritual knowledge, expanding consciousness, and promoting world peace to all members of the human family.
The organization's mission is to participate with individuals and organizations in creating critical mass for a peaceful, just, sustainable, and healthy world through scientifically and experientially exploring non-dual consciousness as the ground of existence and applying this understanding in the enhancement of health, business, leadership, and conflict resolution.
To learn more about the Chopra Foundation, please visit the Foundation's website: choprafoundation.org.