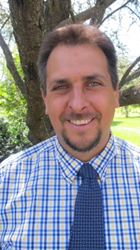 There's no product like SIMmersion's that matches its potential for training
Columbia, MD (PRWEB) February 28, 2015
SIMmersion, a small business that develops virtual conversation training simulations, is pleased to welcome Jeff Elkins to their team as the Chief of the Script Engineering Section. "I'm excited about SIMmersion," Elkins says about the new job, "They have an amazing team and an innovative product with limitless possible applications." Elkins has a diverse background in science, music, and religion and earned a Master's degree in theology. For the past 15 years, he has helped non-profit organizations strategically reach their goals.
"We're thrilled that Jeff made the switch from non-profits to join us here in the private sector," says Laura Humm, SIMmersion's Chief Operating Officer. "When I was a volunteer [at a non-profit], Jeff was my mentor. I learned a lot about leadership from him. He's a natural fit for this job, because as a Pastor, it was his job to help people in their darkest moments and in their best ones. Who better to lead our team of Script Engineers than someone who's experienced that many hard conversations?"
Elkin's primary responsibility as Section Chief is to develop and lead the team of Script Engineers who use SIMmersion's patented PeopleSim® conversation engine to create highly realistic simulated conversations with virtual characters. These video-recorded characters provide role-play practice sessions for a wide array of conversations including suicide intervention, drug abuse counseling, coaching for improved performance, job interviewing, cross-cultural communication, and many more.
In addition to his vast educational and leadership experience, Elkins has a passion for creative writing. He's published three books and founded a short story publishing service, Short Fiction Break. The service gives writers space to practice their craft and connect them with readers. Elkins says, "My work with Short Fiction Break gave me a deep insight into writers' needs, and taught me how to encourage learning and what tools are required to empower [writers] to reach their goals… all things that I can use to help this fantastic team reach its maximum potential."
As the team continues to grow in the coming months, Elkins will develop systems alongside them to ensure he stays current with the constantly evolving technology. He says, "The work of the Script Engineers is fantastically rewarding because it allows us not only to create realistic dialog but to have a positive impact on the world by training people in all walks of life to have effective and productive conversations."
About SIMmersion
SIMmersion's mission is to train communication skills faster and more effectively by combining the world's most realistic simulated experiences with highly interactive training content and extensive user feedback. For more information, visit http://www.simmersion.com or call 443-283-2555.