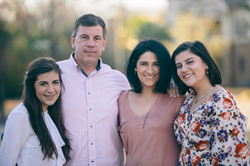 Our clients should expect to be treated with dignity and respect, which includes showing up on time, being honest and doing great work. We aren't just another handyman service – we are a full-service home maintenance company. - Jeff Pittman
WILMINGTON, N.C. (PRWEB) August 23, 2021
After a career in senior care, Jeff Pittman is looking forward to using his experience to grow his new business – TruBlue Total House Care of Wilmington – which serves Wilmington, Leland, Porters Neck and the surrounding areas.
TruBlue's professional technicians can help with handyman repairs, cleaning services, yard work, seasonal services and minor home renovations. TruBlue also works with homeowners, realtors and rental property owners who need to get homes move-in ready quickly and keep them maintained as well as business clients. While TruBlue can work with homeowners of all kinds, Pittman and his team are uniquely skilled to help seniors
"I opened my first business – Carolina Mobile Transport – because, while working in senior facilities, I realized there was a huge need for a third-party company that could help seniors get to their appointments. As part of that business, we heard a lot about the house maintenance seniors needed to be able to continue to age safely and comfortably at home. I was thinking about taking on that need by myself when I found TruBlue," Pittman said. "Our community is having a huge building boom, especially for retirees, and TruBlue allows me to help them enjoy those homes for as long as possible."
As part of the company's services for seniors and families, TruBlue does Senior Home Safety Assessments, makes age-friendly renovations and offers House Care Plus, a regular service program that can help seniors and busy families enjoy the comforts and convenience of owning a home without worrying about the maintenance hassles.
In addition to owning TruBlue of Wilmington and Carolina Mobile Transport, Pittman has more than 15 years of experience working in the senior facilities business, which gave him a unique perspective on what seniors need to stay at home, which often came down to having someone available to care for the person and having someone who is able to care for the home. TruBlue aims to fill that second gap in a professional, trustworthy way.
"Every job I've ever had has really been about providing the very best customer experience and that's something I'm looking forward to bringing to TruBlue. Our clients should expect to be treated with dignity and respect, which includes showing up on time, being honest and doing great work. We aren't just another handyman service – we are a full-service home maintenance company," Pittman said.
TruBlue of Wilmington is licensed, bonded and insured. To learn more about TruBlue, call 910-812-1656, email jpittman@trubluehousecare.com or visit https://trubluehousecare.com/south-wilmington.