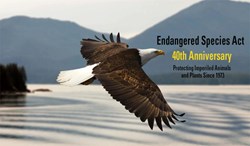 The holiday season is the perfect time to commit to ensure that our individual actions have a positive impact on the environment and the creatures who share it with us
(PRWEB) December 23, 2013
December 28 will mark the 40th anniversary of Congress passing the Endangered Species Act (ESA), designed to protect critically imperiled species from extinction. The legislation continues to be crucial, not only for protecting endangered species, but also for helping preserve the environment and natural habitats.
Here at JeffCorwinConnect, the animal kingdom and the health of the planet we all share is always on our mind. "One of our core goals is to inspire the next generation of environmental stewards. So as we take the time this holiday season to reflect on our accomplishments and goals for the coming year, it is also the perfect time to commit to ensure that our individual actions have a positive impact on the environment and all of creatures who share it," said Emmy award winning TV host and Naturalist Jeff Corwin. To honor the 40th anniversary of the passing of Endangered Species Act, here are seven positive actions you can take this holiday season and in the new year to help save species and ecosystems:
1. Reuse and recycle – we live on a planet with finite resources, and if we can reuse the things we already have, and find new uses for old materials this holiday season, we will do the earth, and all its creatures, a very big favor.
2. Visit your local zoo or aquarium—There are more than 200 AZA accredited zoos and aquariums in the US, every one of which supports conservation for animal habitats around the globe. Take the family for a fun day.
3. Volunteer – Find local organizations that help restore local wildlife and habitat. Donating time is a great way to learn about your local environment and volunteering is a great family activity.
4. Eat locally produced sustainable food – Holidays means a lot of good food. Eat locally produced sustainable food - the food tastes great, fewer chemicals used to grow food mean fewer chemicals in the land and supporting local producers reduces your carbon footprint.
5. Donate to an organization – If charitable giving is part of your year-end rituals, consider including an organization that works here or abroad for conservation of animals and their habitats.
6. Gift Green – Less packaging, gifts that aren't plastic, newspaper for gift wrapping, bringing your own bags to stores to shop, eco-friendly presents – all simple, easy ideas to make a holiday season even more special.
7. Be active on social media – http://www.facebook.com/jeffcorwinconnect is where we are building a community of friends and environmental stewards, and there is strength in numbers. Join us or other social media communities and lend your support and voice.
From everyone at JeffCorwinConnect, we wish you a very healthy and happy holiday season.