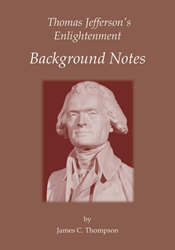 "Background Notes" abandons legacy management and returns to the basic business of investigating the man himself.~James C. Thompson
(PRWEB) June 15, 2015
A look into historical nooks and crannies always reveals the real picture.
Author and publisher James C. Thompson of Commonwealth Books of Virginia today announced the release of "Thomas Jefferson's Enlightenment: Background Notes," a non-fiction historical narrative exploring little known facts, seldom noted events, and forgotten relationships and offering refreshing new perspective into American president and Declaration of Independence author Thomas Jefferson.
Like other works on the life of Thomas Jefferson, "Background Notes" is part of an ongoing reinterpretation of history. However, it is an important demarcation from the prevailing historiography, which is substantially concerned with managing Jefferson's 'legacy.'
"Background Notes" abandons legacy management and returns to the basic business of investigating the man himself.
"This book is not another work describing what Jefferson did in France," said "Background Notes" author James C. Thompson. "Instead, it takes readers along with Jefferson to see the people he encountered, the city he came to know, the circles he entered, the ideas he discussed—as he does it. This is a real look at the making of Jefferson the man—not the monument."
Here are three takeaways from "Background Notes," to give readers a glimpse into what's in store:
1. JEFFERSON WENT TO FRANCE TO BECOME A NEW PERSON
The world Jefferson had been building for himself on his mountaintop collapsed when his wife died in September of 1782. However, through the depression and gloom that overwhelmed him, he remembered a brilliant luminary who brightened his days during a week-long visit in the spring of 1782.
When Jefferson sailed for France in June 1784, he went with a plan to transform himself into a man of the world.
2. THE REAL JEFFERSON WAS A POLITICAL LONER
As Jefferson's views on God and religion, Virginia's social hierarchy, and natural law were all outside the mainstream of his peers, he kept them to himself. He is best understood as an 18th century rendition of the Wizard of Oz, cloistered in his 'secretary' and pulling levers beyond a veil of reason.
3. THE REAL JEFFERSON WAS IDEOLOGICAL, NOT PHILOSOPHICAL
Jefferson was not an abstract thinker. He was trained in the law and argued—as lawyers are trained to do—from precedents. Until he arrived in France and became acquainted with the French Concept of Progress, he was not aware that he was a progressive ideologue.
After discovering this, it guided his effort to reform France in the years preceding the French Revolution and in the new United States of America in the highly partisan political campaign that preceded his election as its third President.
"Every generation writes its own history," Thompson said. "New generations of historians interpret past events to reflect issues, perspectives, and prejudices of their own time; Jefferson is included. Over two hundred years, he has been transformed from a man in the world into a representation of larger things. This book unveils the next, new Thomas Jefferson."
To purchase "Thomas Jefferson's Enlightenment: Background Notes" for Kindle or e-reader on Amazon, visit http://www.amazon.com/Thomas-Jeffersons-Enlightenment-Background-Notes-ebook/dp/B00XIMPB9M.
For information on wholesale orders of "Background Notes" or speaking opportunities/ inquiries for author James C. Thompson, contact:
MEDIA RELATIONS/EVENT BOOKINGS
Meghan Thornton
Media Relations, Commonwealth Books of Virginia
(202) 412-9962
megscrosby(at)gmail(dot)com
James C. Thompson
Publisher, Commonwealth Books of Virginia
jct(at)commonwealthbooks(dot)org
About Commonwealth Books of Virginia
CBOV is where history, philosophy and art meet. We publish books about bright ideas: who created them; how they became influential; who they influenced; and what these individuals did with them. We answer these questions by immersing ourselves in the History of Ideas. We truly get to know who invented the idea. We find out what they looked like, where they lived, how they spent their time and who they associated with. For more information about CBOV, please visit http://www.commonwealthbooks.org.