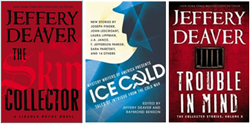 "Outstanding...the endgame remains in doubt to the end. Deaver proves himself a grandmaster of the genre as each surprise leads to an even bigger surprise, like a series of reverse Russian nesting dolls."—Publishers Weekly -- Starred Review
Portland, OR (PRWEB) May 01, 2014
An international number-one bestselling author, Jeffery Deaver is often touted as a writer of psychological thrillers. His novels have appeared on bestseller lists around the world, including the New York Times, the Times of London, Italy's Corriere della Sera, the Sydney Morning Herald and the Los Angeles Times. His books are sold in 150 countries and have been translated into over twenty-five languages and he is the May Author of the Month for online bookseller VJ Books.
"He is a prolific writer with these three titles within months of each other this year: TROUBLE IN MIND in March, ICE COLD: TALES OF INTRIGUE FROM THE COLD WAR (co-editor with Raymond Benson) in April, and THE SKIN COLLECTOR (all Grand Central Publishing titles) in May" reports John Hutchinson, co-owner of VJ Books an online bookseller specializing in signed books by mystery, science fiction, adventure and horror authors.
Deaver's novel ideas offer readers the most exciting roller coaster ride of a suspense story that he can possibly think of. This means that, rather than looking through newspapers or magazines for inspiration, he spends much of his time during the early stages of a book sitting in a dark room and trying to think up a story line that will fit the typical Deaver novel: one that features strong (though possibly flawed) heroes, sick and twisted bad guys, deadlines every few chapters, a short time frame for the entire story (eight to forty-eight hours or so), lots of surprising plot twists and turns and plenty of cliffhangers.
Hutchinson, co-owner of VJ Books says "I first met Jeff after seeing DEAD SILENCE, the made for TV movie starring James Garner based on A MAIDEN'S GRAVE. We have been friends ever since, and I am excited about The Skin Collector; THE BONE COLLECTOR was one of his biggest hits, and this one promises to take Lincoln Rhyme and Amelia Sachs to a whole new level. I can't wait!"
Deaver has been nominated for seven Edgar Awards from the Mystery Writers of America, an Anthony Award and a Gumshoe Award. He was recently shortlisted for the ITV3 Crime Thriller Award for Best International Author.
A frequent public speaker on the subject of books, literacy and writing, Deaver has delivered lectures and keynote addresses at hundreds of conferences and festivals around the world, including Harrogate, Left Coast Crime, Pikes Peak Writers Conference, the Edinburgh International Book Festival, Crimefest and the Emirates Literary Festival.
His book A MAIDEN'S GRAVE was made into an HBO movie starring James Garner and Marlee Matlin, and his novel THE BONE COLLECTOR was a feature release from Universal Pictures, starring Denzel Washington and Angelina Jolie. His novel THE DEVIL'S TEARDROP was adapted for the screen and aired on Lifetime; it starred Tom Everett Scott and Natasha Henstridge.
VJ Books has placed their inventory of Jeffery Deaver books on sale.
Praise for Jeffery Deaver
THE SKIN COLLECTOR
"Outstanding...the endgame remains in doubt to the end. Deaver proves himself a grandmaster of the genre as each surprise leads to an even bigger surprise, like a series of reverse Russian nesting dolls."—Publishers Weekly -- Starred Review
TROUBLE IN MIND
"Fans of the genre's most indefatigable prestidigitator are in for a treat: The third volume of his short stories may be his best."—Kirkus (STARRED review)
About VJ Books
VJ Books has specialized in signed and collectible modern fiction for nearly 20 years. Each month, VJ Books' customers are able to choose from dozens of autographed books from some of the most exciting, highly acclaimed authors in the areas of mystery, suspense, science fiction and modern literature. Additionally, they continue to offer an impressive selection of back list, rare, out-of-print, and special edition titles.
Contact:
Virginia Lenneville
marketing(at)vjbooks(dot)com
Facebook: vjbooks
Twitter: vjbooks