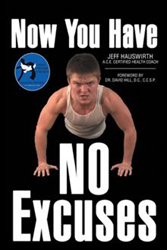 Offers an overview of diet and nutrition in relation to general fitness as well as tips and techniques to keep readers motivated.
HANCOCK, Mich. (PRWEB) October 16, 2014
As a certified American Council on Exercise health coach, Jeff Hauswirth knows how difficult staying in shape can be. His new book "Now You Have No Excuses" (published by LifeRich Publishing) presents readers with an all-inclusive workout that ditches the gym membership and equipment, leaving no excuses behind.
Hauswirth, who began creating exercise programs while serving in the U.S. Navy, outlines a comprehensive exercise routine that is designed to grow as the reader progresses. Detailed pictures guide readers through each movement, and minimal equipment such as chairs and mats is required for each exercise.
In addition to fitness routines, Hauswirth's book also offers an overview of diet and nutrition in relation to general fitness as well as tips and techniques to keep readers motivated. As the number of obese persons in the United States sits at approximately 34.9 percent according to the Centers for Disease Control and Prevention, Hauswirth hopes his book will serve as a tool to help combat obesity.
"There really are no secrets to fitness success," Hauswirth asserts. "It comes down to the work and sweating it out, and this book will allow you to do that in the privacy of your own home."
More information is available at http://www.peacethroughstrengthfitness.com/ and https://www.facebook.com/WAYWF.
"Now You Have No Excuses"
By Jeff Hauswirth
Softcover | 6 x 9 in | 64 pages | ISBN 9781489702906
E-Book | 64 pages | ISBN 9781489702913
Available at Amazon and Barnes & Noble
About the Author
Jeff Hauswirth created many exercise programs for his fellow shipmates during his years in the U.S. Navy as a hospital corpsman and combat medic. Currently, he teaches physical education and health. He has worked with many people in not only fitness program development, but also dietary education as well as behavioral changes. He has coached football, hockey and track. He previously published "What Are You Waiting For?"
LifeRich Publishing, the strategic publishing partnership of Reader's Digest and Author Solutions, LLC, was created to provide all writers a platform for sharing their stories, recipes, advice and more. LifeRich authors will benefit from a wealth of editorial design, marketing and education resources, specially created by Reader's Digest editors for the enrichment of these LifeSmart individuals. Books can be published in print, ebook or audio formats, with additional distribution to up to 25 million Reader's Digest customers through its online properties. Follow @LifeRichPub on Twitter or "Like" us at facebook.com/LifeRichPublishing for the latest updates.