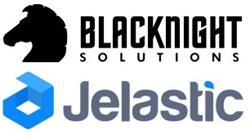 Blacknight's new Jelastic powered cloud will help give Irish and European developers and startups the flexibility and control they want without the dangers of unexpected overages.
Palo Alto, Calif. (PRWEB) May 13, 2015
Jelastic, Inc., the cloud company that provides a platform for container orchestration with entire freedom of choice from technology to vendor and an advanced level of DevOps workload mobility, has announced their partnership with Blacknight Solutions, an Irish owned and based company, accredited domain registrar and hosting provider.
The public cloud computing market is still in the early stages of adoption, with rapid growth forecasted in the upcoming years. IDC predicts the cloud market to grow at a compound annual rate of 22.8% each year, which is six times faster than the growth in the overall IT market. By 2018, IDC expects that cloud spending will account for half of software, server and storage spending growth.
Ireland has a burgeoning startup tech scene and many of the world's leading tech companies are based there such as Google, Facebook and Etsy, as well as Irish talent like Foodcloud and Soundwave. Blacknight hope to attract interest for their PaaS from DevOps who want to have flexibility, security and a reliable cloud environment.
"Blacknight's new Jelastic powered cloud will help give Irish and European developers and startups the flexibility and control they want without the dangers of unexpected overages. We chose to offer Jelastic over competing services because it combines best of breed technology with a truly unique platform allowing our customers to work faster and smarter. Also, Blacknight operates all of our hosted services through our in-house, green, data centre meaning that our customer's data remains in Ireland," said Michele Neylon, CEO of Blacknight Internet Solutions.
"Infrastructure flexibility, reduced total cost of ownership, and shortened time to market are just some of the main reasons to move to the cloud," said Ruslan Synytsky, Jelastic CEO. "We are seeing pockets of huge innovation and demand in the Irish sector and our partnership with Blacknight will support this."
From the beginning, Jelastic has been the pioneer PaaS using containers virtualization technology for application deployment, lifecycle management, scalability and ZERO CC (zero code changes). In addition, Jelastic provides unique vertical scaling for all application containers with load spikes and variable loads in general. The granular vertical scaling provides the ability to automatically scale up and down stateful apps, legacy apps and apps that were not designed for horizontal scaling, resulting an easy way to migrate and improve existing workloads.
About Blacknight
Blacknight are an Irish based, ICANN accredited domain registrar and hosting company. Recipients of several awards for their revolutionary use of social media, Blacknight are one of Europe's most cutting edge Internet companies. Blacknight constantly seek to lead the way by introducing innovative solutions for its client base and provide dedicated servers and colocation as well as a comprehensive range of Microsoft Windows and Linux based hosting plans and domain name registration services to business globally.
About Jelastic
Jelastic, Inc. is the first company that introduced a new degree of freedom in the cloud with containerization for DevOps. Jelastic provides a turnkey Private, Public and Hybrid cloud platform that brings together enterprise PaaS and container-based IaaS. The platform provides certified containers for Java, PHP, Ruby, Node.js, Python and .NET and the ability to upload custom containers. Jelastic offers agile deployment models, flexible scaling for stateless and stateful applications, collaboration and access control tools, billing and business analytics tools, while driving down TCO with high density and hardware utilization. Jelastic is a software company that enables cloud hosting service providers, systems integrators and enterprises to unleash the full potential of the cloud to generate superior ROI and efficiencies.
For more information visit us at http://www.jelastic.com, or follow us on Twitter at http://www.twitter.com/Jelastic, and Like Us on Facebook at http://www.facebook.com/jelastic