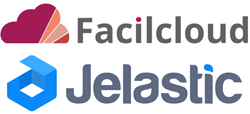 At Facilcloud.com our goal is to help developers and online entrepreneurs to grow easily and quickly, by bringing the first 100% SSD elastic cloud to Latin America
Palo Alto, Calif, (PRWEB) July 27, 2015
Jelastic, Inc., the cloud company that provides a platform for container orchestration with entire freedom of choice from technology to vendor and an advanced level of DevOps workload mobility, today announced their partnership with Latin Américan hosting service provider Facilcloud.com.
IDC has expanded its worldwide coverage forecast on the cloud IT market to include detail for eight regions: Asia/Pacific (excluding Japan), Canada, Central & Eastern Europe, Japan, Latin America, Middle East & Africa, USA, and Western Europe. In 2015, Western Europe is expected to have the highest growth in cloud IT infrastructure spending at 32%, followed by Latin America (23%), Japan (22%), and the US (21%).
Latin America's predicted growth in 2015 is timed perfectly for the union of these two companies.
"At Facilcloud.com our goal is to help developers and online entrepreneurs to grow easily and quickly, by bringing the first 100% SSD elastic cloud to Latin America. 70% money and 90% time saved are our main priorities, plus we offer a free trial that includes almost 1500 free cloudlets distributed among 40 app servers over 14 days. Our expert team are available 24/7 in both Spanish and English languages," said Gerardo Sandoval, CEO at Facilcloud.com.
The team at Facilcloud.com will invite their existing and potential new customers to learn about the platform and to sign up for their 2-week free trial. They are also planning to launch a competition for programmers where the company will sponsor them, and their projects will be created using Jelastic.
"2015 has been a great year for us. We are regularly signing up new hosting partners who want to offer cloud platforms (IaaS and PaaS) as a turnkey software package. This enables them to compete with mega hosters like AWS, Google and Azure. We are absolutely thrilled to welcome Facilcloud.com and predict their future is bright with us as their technology partner," said Ruslan Synytsky, CEO of Jelastic.
From the beginning, Jelastic has been the pioneer PaaS using containers virtualization technology for application deployment, lifecycle management, scalability and ZERO CC (zero code changes). In addition, Jelastic provides unique vertical scaling for all application containers with load spikes and variable loads in general. The granular vertical scaling provides the ability to automatically scale up and down stateful apps, legacy apps and apps that were not designed for horizontal scaling, resulting an easy way to migrate and improve existing workloads.
About Facilcloud.com
Facilcloud.com has more than 14 years of experience in the global market, their main resource is the team of experts, which is focused on the challenging digital technologies of the market. Facilcloud.com offers an extensive variety of services such as elastic cloud, web hosting, web domains and others for Latin and North America. More than 25k users have trusted Facilcloud.com through the years thanks to their competitive prices and excellent 24/7 customer service support.
For more information visit http://www.facilcloud.com, read our blog or follow us on Twitter, and Like Us on Facebook.
About Jelastic
Jelastic, Inc. is one of the first companies that introduced a new degree of freedom in the cloud with containerization for DevOps. Jelastic provides a turnkey Private, Public and Hybrid cloud platform that brings together enterprise PaaS and container-based IaaS. The platform provides certified containers for Java, PHP, Ruby, Node.js, Python and .NET and the ability to upload custom containers. Jelastic offers agile deployment models, flexible scaling for stateless and stateful applications, collaboration and access control tools, billing and business analytics tools, while driving down TCO with high density and hardware utilization. Jelastic is a software company that enables cloud hosting service providers, systems integrators and enterprises to unleash the full potential of the cloud to generate superior ROI and efficiencies.
For more information visit us at http://www.jelastic.com, or follow us on Twitter, and Like Us on Facebook.