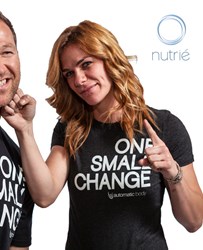 I am so excited to be part of the Nutrie family! -- Jelena Mrdjenovich
Scottsdale, AZ (PRWEB) February 14, 2014
"I am so excited to be part of the Nutrie family!" states Mrdjenovich. "Being a professional athlete, we are constantly on the go from one gym to another. So the convenience and ease of Nutrie's products ensures that I am getting the nutrition and energy I need to crush my workouts. And it also makes the road to my title defence a little easier!"
Mrdjenovich is a Canadian boxer and WBC featherweight world champ. She trains out of the Panther Gym in Edmonton, Alberta. Mrdjenovich once played basketball for the University of Alberta, where she suffered a torn ACL. While taking time off to heal, Mrdjenovich began watching boxing on TV and decided to give it a shot once she had recovered. She's been dominating the sport ever since. Mrdjenovich notes:
"Boxing is challenging to me, mentally and physically, and I enjoy the hard work. Having to be hit over and over again, having to deal with it and push through, it's kind of like chess. You have to show one thing and do another and plan your moves carefully."
Jelena Mrdjenovich recently attended the Nutrie Texas Takeover Regional Event in Dallas, Texas, on January 31-Februrary 2, where she went onstage as part of the Nutrie Elite Athletes presentation, hosted by Nutrie President Aaron Parkinson. Mrdjenovich joined fellow Nutrie sponsors, including former NFL fullback Lorenzo Neal, MMA bantamweight Marlon Moraes, and MMA welterweight Sheldon Westcott. After the presentation, Mrdjenovich also mingled with the guests, signed autographs, and took pictures with her fans.
The entire Nutrié family is thrilled to have Mrdjenovich on board and that's she's representing the Automatic Body brand. Nutrié President Aaron Parkinson says:
"Getting an athlete of Jelena's caliber on board the team is truly an honor. It shows that Nutrie's products are the real deal—that they work. Jelena is also just a natural fit with what the company believes in: health, and positive changes. I'm looking forward to working with Jelena over the near future and bringing our beverage and supplement line into more homes and more gyms across North America."
About Nutrie:
Founded in 2012 with headquarters in Scottsdale, Arizona, Nutrie is a health and wellness company that develops and markets products and programs for consumers to meet their health goals. The company is privately held.
The weight loss results and other health related experiences are not typical, are self-reported, and are applicable only to the individual(s) and do not reflect the results that a customer may achieve. Please see Nutrié's Health Disclaimer located at http://www.nutrie.com for more details.